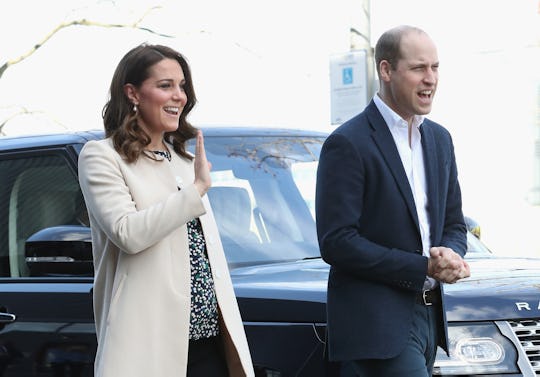 Chris Jackson/Getty Images Entertainment/Getty Images
These 8 Royal Family Birth Traditions May Answer Some Of Your Questions About The Royal Baby
Kate Middleton is set to deliver some time this month and it seems like the entire world is suffering from royal baby fever in anticipation. The exact details about the family's newest addition have been kept under wraps, but not everything about the birth is secret. These eight Royal Family birth traditions are sure to be included in Middleton's birth plan, so fans know some of what to expect.
Kensington Palace announced that Middleton and Prince William were expecting their third child in early September of 2017, sharing that Prince George and Princess Charlotte would be getting a new baby brother or sister. Since then, little information has been officially shared with the public about the pregnancy or the baby. While no exact due date was given, Kensington Palace did announce that Middleton is due in April. Fans have been counting down the days and making predictions ever since.
Speculation about where, when, and how the Duchess of Cambridge will deliver have been making headlines since the family shared the big news. Much of what fans have been guessing at can be explained by the Royal Family's set of traditions surrounding birth and babies.
Hospital or Home Birth?
Throughout much of history, royal babies were born at home in the royal residences. Queen Elizabeth II was born in her family's home in London and went on to have Prince Charles, Prince Andrew, and Prince Edward in Buckingham Palace and Princess Anne at Clarence House, another royal property, according to Good Housekeeping. This tradition was broken when Princess Diana gave birth to Prince William, and later Prince Harry, at St. Mary's Hospital.
Middleton, too, gave birth to her two children at St. Mary's in the Lindo Wing. It was rumored that she was planning a home birth for her third pregnancy, but recent preparations at St. Mary's seem to suggest that she will again opt for a hospital birth.
Gender Announcements
The Royal Family, as a rule, does not disclose babies' genders ahead of time, according to Southern Living. For their last two pregnancies, Middleton and Prince William chose not to even find out what they were expecting until he or she arrived. It isn't clear if they know what Middleton is expecting this time, but fans have been busy trying to guess. Everything from comments made to the color clothing that Middleton wore was scanned for hidden gender-reveal meaning.
Baby's First Public Appearance
Once the royal baby makes his or her arrival, it won't be long before fans have their most pressing questions answered. Royal babies generally make their first public appearance within hours of being born. Princess Charlotte, for example, greeted her adoring fans within her first 10 hours, Marie Claire reported. Princess Diana also posed outside of the Lindo Wing with her little ones, and the Queen did so on the balcony of Buckingham Palace.
In Princess Charlotte's case, her proud parents showed her off to the crowds outside less than 10 hours after the birth. Princess Diana also established this practice of standing outside of the Lindo Wing for photos in her time. The Queen used to take her newborns out on the balcony of Buckingham Palace. Fans are already setting up shop outside of St. Mary's in preparation for the family's newest arrival, according to People.
The Crier
Details don't stay secret for long. While not an official duty, a town crier announces the details of the new baby to the crowds waiting outside. This tradition has carried over from Medieval England when town criers shared the news with illiterate townspeople. The current town crier is Tony Appleton, according to the BBC, but he holds no royal position for the role; he's just an enthusiast.
The 62-Gun Salute
For every royal birth, the Tower of London sets off a 62-gun salute. A normal solute includes 21 rounds, but since the Tower is a royal palace located within the confines of London, an additional 41 rounds are added, according to Good Housekeeping. Talk about coming in with a bang!
The Christening
Royal babies throughout history are christened, and recent generations have had their christenings by the Archbishop of Canterbury in the Music Room at Buckingham Palace. These christenings come with some traditional items as well.
The christening robe currently used is a replica of the one that has been used since 1841, according to Marie Claire. The original robe, made of fine lace and white satin, was made for the christening of Queen Victoria's eldest daughter and was subsequently used for the Queen, all of her children, and all but one of her grandchildren. A replica has since been used since 2008 in order to preserve the original.
Along with the same gown, they also use the same bowl. Queen Victoria's Lily Font bowl was designed in 1840 for the baptism of her children and has been in use ever since. Additionally, the Archbishop of Canterbury baptizes the royal babies with water from the River Jordan, according to the BBC — the same waters that are believed to have been used by Saint John to baptize Jesus.
Paternity Leave
A modern tradition, royal dads now take maternity leave. As of 2003, the UK put into place a state regulated paternity leave for all parents, including those in the Royal Family. Prince William spent six weeks at home from his role as an air ambulance pilot following Princess Charlotte's birth in 2015. He will most likely take advantage of this time with the new baby as well.
As desperate as fans are for inside information on Middleton's pregnancy and birth plans, it sounds like she's just following the family's traditions. Plenty of information will be available in the weeks to come, I'm sure.