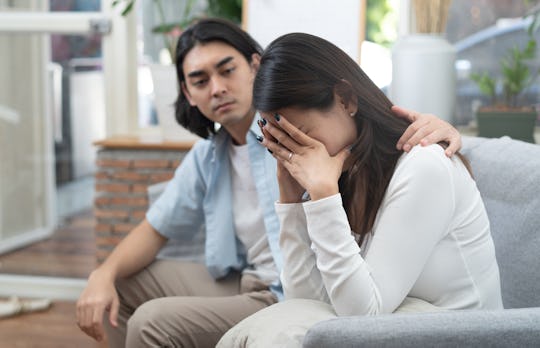 Pormezz/Shutterstock
8 Subtle Ways To Defuse Any Conflict, According To Experts
Even people who crave peaceful relationships will have to deal with conflict every now and then. It's just a part of being human. Thankfully, though, there are some low-key ways to defuse conflict that work wonderfully well. Relieving some of the tension in the room doesn't have to be a big production or anything.
Because even if you're super chill, conflict is bound to arise almost anywhere. Sometimes colleagues get their hackles raised in the workplace. Maybe your best friend is inexplicably mad about something, or the kids have decided to really, really push those boundaries today. Whatever the case, almost everyone needs a strong set of conflict resolution skills, because these everyday tensions aren't going away any time soon.
For starters, though, it's important to maintain your sense of calm during these tense times. If your own temper can get out of hand, then it's also helpful to know how to calm down when you're angry, as explained in Bustle. With a cooler head, however, trying to bring peace to a tense situation isn't all that difficult. A little humor, empathy, and kindness can go a long way in most cases. Read on to learn about the conflict resolution skills that work in the real world.