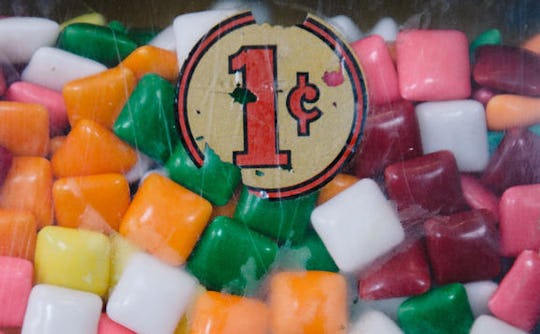 Cara Dolan/Stocksy
8 Surprising Things That Happen To Your Body When You Chew Gum
For many years, I gnawed through about a pack of gum every day, until my dentist basically begged me to stop. Why? Those super-strong jaw muscles cracked a fresh dental implant, costing me serious time and cash. And I'm not the only person to face serious health changes from gum. Really, the shocking things that happen to your body when you chew gum just might cause you to see gumball machines in a totally new light. This tasty treat can do all sorts of stuff to your body.
To be clear, gum isn't all bad, and enjoying one stick of Juicy Fruit probably isn't going to put you in the hospital or anything. In fact, dentists and other healthcare workers might recommend gum-chewing for legit health reasons. Particularly for people who are replacing another habit such as smoking, gum-chewing can be super helpful.
But if you have certain conditions or sensitivities, then chewing gum on the reg might do some weird stuff to your body. With this in mind, it's good to know how gum might affect your jaws, teeth, and even digestive tract before any problems occur. Knowing the many ways gum can affect your body, both positive and negative, is a must for anyone who enjoys this sweet treat from time to time.