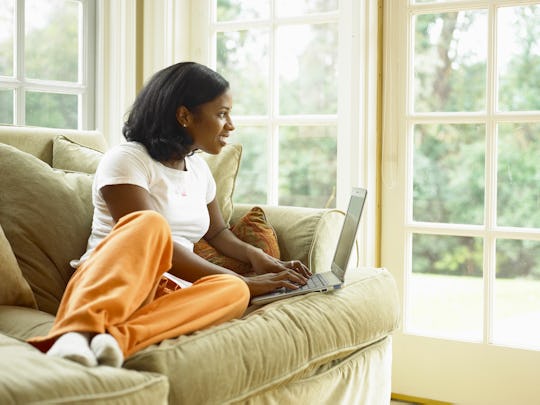 Ryan McVay/Stockbyte/Getty Images
8 Cute Sweatpants Under $40 For Nobody To See In Your Zoom Meeting
If you're someone who recently made the transition to working from home, let me give you a piece of advice (as someone who's worked remotely for the past two years): Forget that jeans exist. Anything with an elastic waist will be your new go-to, and the great news is that there are plenty of comfortable sweatpants under $40 that are ideal for long days of shuffling between the kitchen, the couch, and, on good days, your desk.
Maybe you've already heard of the "outfit mullet" (as The Wall Street Journal put it). It refers to the style of dressing for Zoom meetings or other video conferences where you wear a work-appropriate shirt on top, and a "party" on the bottom, (i.e. your softest sweats).
Whether you like classic black with a drawstring waist, or you're looking to express yourself with a leopard print, there's a pair of perfect sweatpants for everyone, and they don't have to break the bank. You'll probably want to move fast though, because it seems like the one thing that everyone has on their mind right now (besides comfort food) is comfort pants, and a lot of these styles are going fast (unlike the days, which are somehow years).
We only include products that have been independently selected by Romper's editorial team. However, we may receive a portion of sales if you purchase a product through a link in this article.