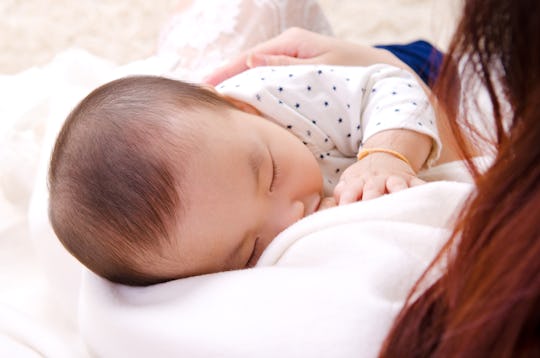 Fotolia
8 Terrible Things About Mastitis That Are Actually Funny When You Look Back
I was lucky that I was able to breastfeed, and for as long as I did. I mean, there were so many wonderful moments that I was able to share with my son when I was breastfeeding him, but man, breastfeeding can be hard. The exhaustion and the pain and engorgement and sore nipples; the list goes on and on. That list can get worse, of course, if you have mastitis. Thankfully, even the terrible things about mastitis are funny when you look back on them. Honestly, in breastfeeding and in motherhood and in life itself, if you can't at least laugh at the absurdity of it all (even when that absurdity is painful and the result of a clogged milk duct in your left breast) you'll have a tough time getting through the sh*t.
My mastitis, which is essentially an infection of the breast, was the result of a clogged milk duct. I experienced fever and chills and pain and redness on my breast, because a milk duct had been lodged and, later, infected. I had to pump and I had to continue breastfeeding through the pain and I had to position my son so his adorable little chin could work the clog out of the infected duct and dear breastfeeding gods was it the worst. It was also, looking back, pretty freakin' hilarious. I mean, my kid's chin doubled as a clog extractor. That's funny, you guys.
Now that my son is about to turn two and our breastfeeding days are behind us, it's much easier to look back and laugh at painful moments that once had me questioning my sanity (or at least my choice to breastfeed). If you're going through these moments now, know that you're not alone and know that, eventually, it will get better and you'll be able to laugh at it all. Trust me, you'll be sipping on your well-deserved glass of wine and chuckling at the following things, in no time.