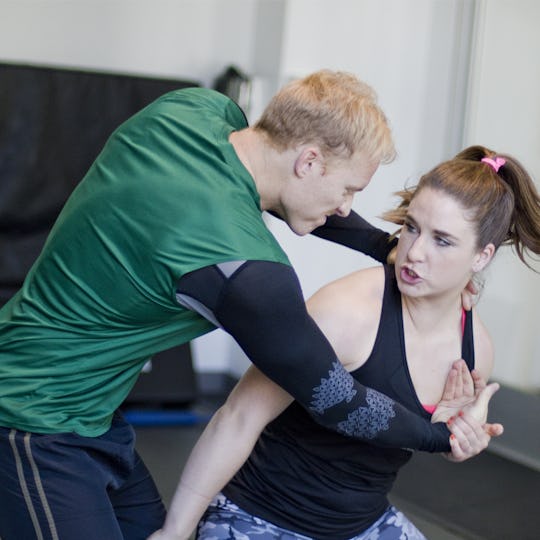 Couresy of Liz Kowalsky and Krav Maga Worldwide
3 Self-Defense Share Tips For Protecting Your Fam
When my children were younger, we spent a lot of time going on errands, walking to the playground, or just killing time at the mall. My arms were always full and my mind overwhelmed as I juggled the diaper bag, a double stroller, keys, a cell phone, and two squirmy toddlers. I think back to those days, and know for certain that if someone had wanted to do us harm, they would have had no trouble. And I know I'm not the only parent who feels this way. Luckily, there a few things self defense instructors want you to know about defending yourself and your kids.
Everyone wants to believe that their particular neighborhood is safe. But, the reality is that no area is 100 percent immune from danger or crime. Moms with small children seem to be at a particular risk, because they have more than one person to defend in the event of an assault. As kids get older and are no longer under constant parental supervision, they, too, may find themselves confronted with dangerous scenarios that require safety skills and quick thinking.
Here are some tips shared by self-defense instructors that will help keep you and your children safe if you're ever faced with a precarious situation.