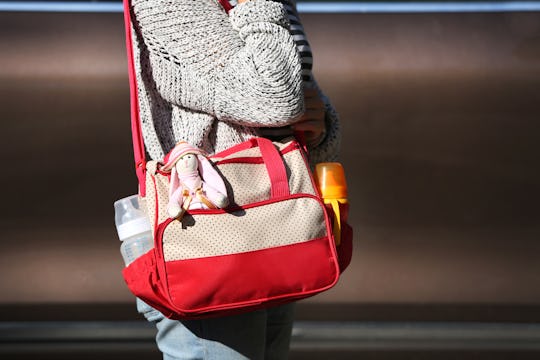 Africa Studio/Fotolia
8 Things To Add To Your Diaper Bag In The Wintertime, Because Lost Hats Happen
Packing a diaper bag is about anticipating many possible futures, disasters, and delays. Tylenol? Check. Sippy cup? Check. Sunscreen for an impromptu picnic? Yep. In fact, most parents keep half a store hidden inside because all it takes to ruin a dinner is to forget to bring a teether toy. Parenting is a high stakes game, and now that winter is actually here, it's time to winterize your diaper bag. If you're wondering how best to prepare for the unexpected in the land of ice and snow, Romper identifies eight things to add to your diaper bag in the wintertime. There's a big emphasis on bringing extras, and a few unique seasonal items to boot.
One of those must-haves? A great lotion. "A moisturizing lotion or Vaseline is good to put on the skin to help prevent those chapped cheeks that often come with winter weather," pediatrician Dr. Jarrett Patton of Pennsylvania tells Romper. "As the skin gets extra dry during the winter months, keeping lotion in the diaper bag is a good idea."
But don't be afraid to keep any items you might need, too. I keep a spare shirt for myself in mine because, well, you never know. So as you pack your bag, keep this list handy.