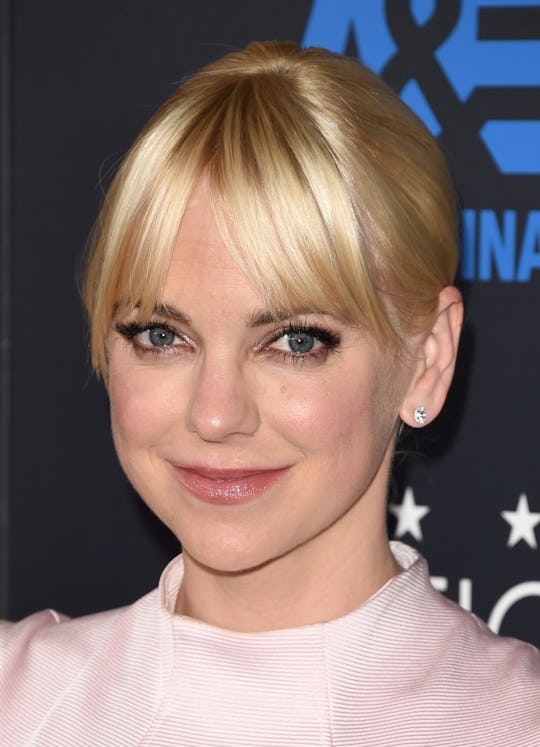 Jason Merritt/Getty Images Entertainment/Getty Images
8 Times Anna Faris Proved Motherhood Is About Having A Sense Of Humor
Anna Faris is one of the coolest young moms in Hollywood with a life that is pretty enviable. Not only does she star in the TV show, Mom, but she also has her own podcast, is married to one of the funniest men in Hollywood (Chris Pratt), and is the mother of 4-year-old son Jack. For Anna Faris, being funny is not only her day job, it's also a way to go about parenting — on on plenty of occasions, Faris has proved that motherhood is about having a sense of humor.
You can tell that Anna Faris loves being a mother — it shows. From her Instagram to her Twitter account, Faris' social media is dominated by Jack's presence (not to mention totally adorable). In January, Faris opened up to HuffPost Live about Jack and being a mom. "He's a total ham," Faris said, referring to her son. "I get a total kick out of him."
It would only be right for Jack to have a great sense of humor. After all, his parents are some of the funniest actors around — so it would only be natural for him to be funny too. Thankfully, Faris uses that humor in raising her son, taking to Twitter and Instagram to post about Jack's antics on a regular basis and showing everyone else that being able to find the funny moments in all the stresses of everyday mom-life make it all a little bit easier.
The Time She Let Him Explore His Creative Side
As an actor, Faris understands the to explore creativity' even if it means watching your son make arts and crafts with less conventional materials like... handi wipes? Faris posted this photo to her Instagram account with the caption: "Arts and crafts with handi wipes that's a good Hollywood Sunday."
The Time They Went To The Train Museum... Again
Faris posted this adorable picture of her and Jack from their visit to the train museum... "for the 223rd time." Parents understand how focused a child can be on one specific thing or place — in Jack's case, that's the train museum. But one more visit to the museum doesn't stop Faris from putting on a smile and making a joke out of it.
The Time She Caught Jack In The Act
Looks like Jack could have a future as an artist or maybe a house painter if a future in comedy doesn't work out for him. True to character, Faris takes things like this all in stride.
The Time She Posted The Second Best Photo
If you've ever been to a zoo, then you know how badly penguins smell. Apparently, Jack agrees. Faris posted this hilarious photo to her Twitter account after Jack met a penguin for the first time, which arguably should have been a fun time for all. While Faris posted a happier shot on her account, she followed it up with this hilarious tweet, proving that not all photos of your kids need to be picture perfect. Sometimes the best moments happen spur-of-the-moment.
The Time She Let Him Eat Sweets
Because ice cream does not taste delicious and is not something that Jack seems to enjoy. Faris, like a champ, takes a little time to tweet sarcastically before grabbing the non-cut-up handi wipes.
The Time She Revealed The True Story Behind The Photo
"On the way to the airport — things look like they might be smoother than they are," Faris wrote in the caption of this Instagram photo. Traveling with a child is one of the most difficult things but instead of being upset, Faris put on a happy face and used her sense of humor to be honest with her fans.
The Time She Found Her Robe Thief
Don't get mad that they stole your things, parents. Just snap a photo now and embarrass them later.
The Time Potty Training Didn't Go Too Smoothly
When it comes to parenting, situations like this can be a nightmare for some. However, due to Faris' great sense of humor, a disaster like situation was the perfect photo opportunity and time to get honest with fans. Sometimes, potty training does not go to the way you want it to. There is no downfall to having a sense of humor about it.
Anna Faris proves that sometimes the best way to go about motherhood and all of the complications that may arise with it is to put a smile on your face and have a sense of humor. And if she can do it, so can you — right?