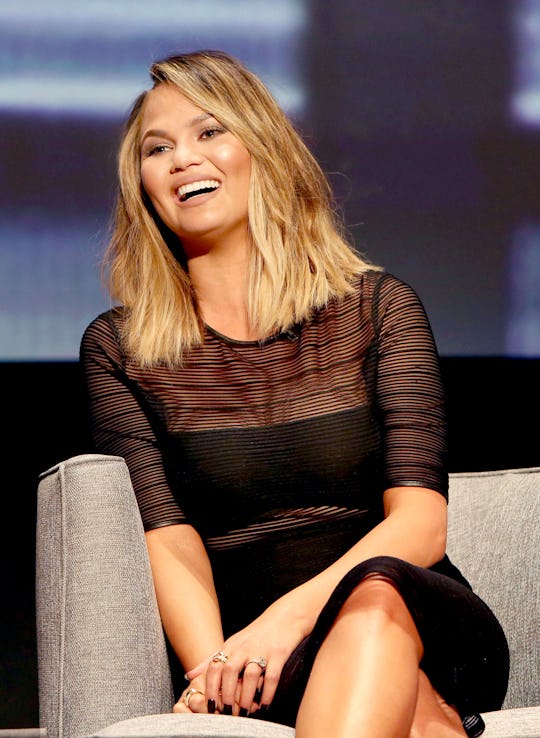 Rachel Murray/Getty Images Entertainment/Getty Images
8 Times Chrissy Teigen Was All Of Us On Snapchat
In case you missed it, Chrissy Teigen, model and host of Lip Sync Battle, is pretty much the best person to follow on social media. She regularly destroys haters on Twitter, launches into blender battles, and shares pictures of her adorable baby on Instagram. She's also on social media's breakout star of the year: Snapchat. The picture-sharing app is just another platform for Teigen's rambunctious personality to shine on, and she manages to do so in a way we can all relate to. For fun, I collected eight of Teigen's most hilarious Snapchats, or, as I like to refer to them, "Times Chrissy Teigen Was All Of Us."
Teigen joined Snapchat in May 2015, announcing on Twitter, "My snapchat name is chrissyteigen and I'm not great at it yet okay but my mom just said she has crabs on it?" Which sounds pretty typical of Teigen's outrageous life and hints at the snaps to follow. There have been a few moments since in which Teigen was all of us on Snapchat, from revering her own lasagna to sharing too many baby pics (I mean, what counts as "too many," though? Really, now).
There may be many celebrities on Snapchat these days, but I challenge you to find me one — one! — as hilarious and relatable as Chrissy Teigen. Without further ado, I present you with the eight times Teigen was all of us on Snapchat (just better dressed, more famous, and, you know, funnier).
That Time Teigen Wasn't Impressed
Bring on the sarcastic Snapchats any day, Teigen.
When She Crept On Her Sleeping Husband For A Cute Picture
When She Shared Her Spray Tan Fail
If you've ever tried spray tan, you've had a spray tan fail, too.
Yes, She Uses Those Snapchat Filters, Too
Teigen is totally okay with admitting why she uses the Snapchat filters, though. —She captioned one shot, "This app is a narcissism dream machine."
But She Doesn't Need To Glam Up All The Time, Either
When She Shared Pictures Of Her Dogs For Our Amusement
My Snapchat is basically a puppy pic sharing machine. I'm all about Teigen's dog shots.
That Time She Got Real About Her Selfie Editing
When She Dressed Up Her Daughter For Our Amusement
Of course, that's only a taste of the Teigen Snapchat experience. If you care to follow her adventures, she snaps under the creative moniker of "ChrissyTeigen," where you can get regular updates on her, husband John Legend, and baby Luna. Oh, and prepare yourself for plenty of delicious food shots from Teigen's cookbook, Cravings, to make you nice and hungry as you browse her snaps.