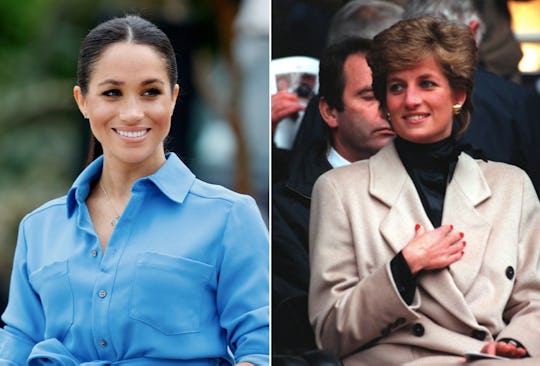 Chris Jackson/Chris Jackson Collection/Getty Images/ Pascal Rondeau/Getty Images Sport/Getty Images
8 Heartwarming Times Meghan Markle Has Honored Princess Diana
Long before her wedding day, Meghan Markle has been making her mark on the royal family. The former Suits star has also often been likened to husband Prince Harry's late mother, Princess Diana, which isn't all that surprising. After all, the Duchess of Sussex is fashionable, she's poised, and she's driven. But beyond sharing similarities, Meghan Markle has also honored Princess Diana several times since joining the royal family, and everyone seems to take notice when she does because it's always so touching.
Though unsurprising given the media attention paid to her, Markle is apparently aware of the comparisons between herself and Princess Diana, and takes that into consideration, according to ELLE. "Meghan's very aware of how any photo taken of her will be part of the history books for a lifetime, so she's always careful not [to] hop on flash trends or look at that season's runways for inspiration," a source supposedly close to Markle told ELLE back in April. "Looking back to outfits that have stood the test of time is often a safe bet."
Markle's choices — whether it's fashion, a flower, or her son's name — are always talked about, but it's the symbolism and tiny touches hidden within them make them all the more special. And here are eight times Markle has honored her late mother-in-law with her thoughtfulness.