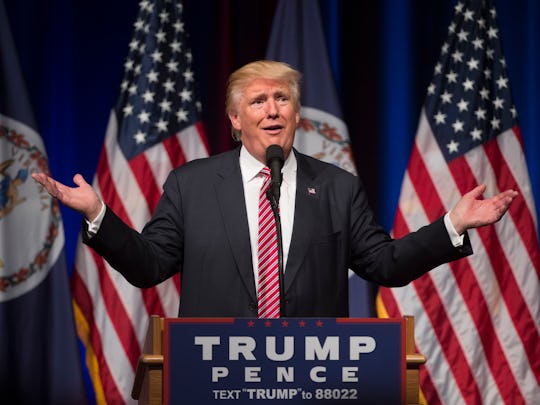 MOLLY RILEY/AFP/Getty Images
8 Times My Toddler And Donald Trump Were Basically The Same Exact Person
I will not even feign a sort of journalistic neutrality here: I do not care for Donald Trump. At all. Yes, that is putting it mildly. I do not care for him as a public figure in general, so the idea that he could be my president dances the line between hysterical and horrifying. These days, mostly horrifying. I mean, when I can count a number of times when my toddler and Donald Trump were basically the same person, the thought of a man-child being the leader of the most powerful country in the world is, you know, mind-numbingly scary.
His meteoric political rise has been fueled not by content (his actual plans for how he plans to improve the country have been notably vague) but bombast and demagoguery. Donald Trump is a grown up baby. A really racist, sexist, petulant, self-aggrandizing, insecure, grown up baby, and while I wish I was simply being hyperbolic or cheeky, I'm not. Time and again, Trump demonstrates what can only be categorized as pure, unadulterated toddler behavior. This isn't meant to be insulting to toddlers. Kids are supposed to be irrational, emotional, and weird. Adults, particularly adults whom we, as a nation, are potentially appointing as the most powerful political leader on the face of the planet, should be none of those things. (Look, a little weird is okay. Like how John Quincy Adams would go skinny dipping in the Potomac, because JQA was a man who understood YOLO.)
Yet my own weird, emotional, irrational toddler has said and done things that could, swapping a few details, just as easily have been perpetuated by The Donald. Here are just a few, because the only way to properly digest this dumpster fire of a presidential election, is to sort through the absurdity of it all.