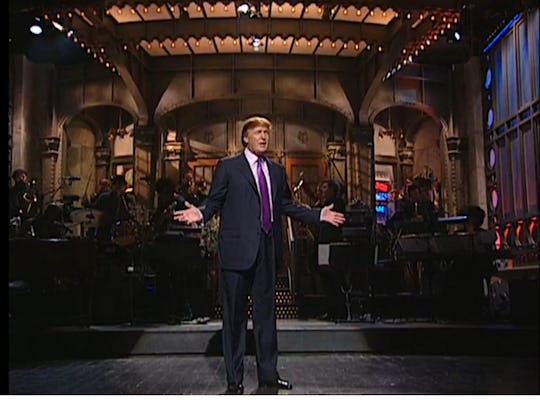 8 Times 'SNL' Parodied Trump & Totally Nailed It
Donald Trump is hosting Saturday Night Live Nov. 7, and it's probably going to be either the hugest, classiest thing to ever happen to the show, or an unmitigated disaster. The real estate mogul turned presidential hopeful isn't exactly known for his acting skills. He did actually host the SNL once before, back in 2004, but it was... Not great. Donald Trump as a character, on the other hand, is never a bad thing. SNL has been parodying Trump for almost 30 years — throughout his failed marriages, public feuds, and flirtations with political relevance. His attitude (and his hair) made him the perfect target for sketch comedy long before he began hosting Celebrity Apprentice and later, running for President of the United States on the promise to build a wall to keep out Mexican immigrants, albeit a wall with a "big, fat beautiful door." Let's take a look back at how SNL has spoofed the institution that is The Donald over the years:
"A Trump Christmas," 1988
Trump's first "appearance" on SNL was in 1988. It starred the late, great Phil Hartman playing the mogul, with the also late and great Jan Hooks as his then-wife, Ivana. "A Trump Christmas" sends up First World Problems before they were even a thing: the pair can't agree on which Champagne and jewelry brands are best. They exchange Christmas gifts (a 15th-century cathedral door and an anchor, both dipped in gold and encrusted in jewels), and hijinks ensue.
Church Lady, 1990
When Trump left Ivana for Marla Maples in 1990, Dana Carvey's Church Lady took them to task for their sinful ways, alongside her… uh, apprentice, Enid, played by a 13-year-old Fred Savage (incidentally, this was the first episode of SNL I ever saw; I got special permission to stay up late to watch the star of The Wonder Years host). Trump was once again played by Hartman, while Hooks transitioned into the Maples role.
Talking Immigration, 1999
All told, Hartman parodied Trump five times between 1988 and 1990, with Darrell Hammond taking over the role in 1999. One of Hammond's first portrayals features The Donald talking with Cheri Oteri's Ross Perot and Chris Parnell's Pat Buchanan about a possible 2000 presidential run under the now-defunct Reform Party. It's eerie to watch him talk about immigrants (they "steal and talk funny") and the classy interns he plans to install under his desk in the Oval Office. "This is ridiculous!" Buchanan cries. "America won't stand for this! This man is a cheap hustler with barroom morals!" If only they knew then what we know now.
Feeling Great About His Hair, 2004
Check out a very young, terribly-coiffed Jimmy Fallon expressing shock back in 2004 that The Apprentice turned out to be a hit. Hammond's Trump agrees with me on the hair thing, and suggests Jimmy visit his stylist. He loses me when he insults Tina Fey, though, because she is perfection and everybody knows it.
Offering Ratings Advice, 2004
Watch "Trump" share his ideas for improving NBC's struggling prime time lineup by adding "a huge, jiggly pair of boobs" to ER and lightly threatening Will & Grace's Megan Mullally. Always cherishing women, that guy. You'll love his description of his "marble and gold apartment." I won't spoil it here.
Feuding With Rosie, 2007
In 2007, the show poked fun at Trump's infamous feud with Rosie O'Donnell, which is still going on today. They could literally do this sketch tomorrow with all the Apprentice references swapped out for campaign references, and it would still make perfect sense. You'll laugh out loud at his over-the-top insults.
Conspiracy Theory, 2011
Hammond played Trump an impressive 18 times on SNL before he left the show in 2011. Jason Sudeikis took over for one 2012 episode, where he appeared on the always-uproarious Fox and Friends (am I the only one who insists on pausing these sketches to make sure I catch all the "corrections"?). The segment is supposed to be about the aftermath of Hurricane Sandy, but Trump changes the subject to President Obama, who he believes to be in cahoots with Jafar from Aladdin. Seems accurate.
Letting Melania Do The Talking, 2015
Sudeikis broke my heart (and effectively killed the long-running "What Up With That") by leaving SNL in 2013, so Taran Killam now plays Trump. Here he is just last month with Cecily Strong's Melania, defending his positions on women, immigration, and Megyn Kelly.
Killam's Trump might just be my favorite. So will we see him this weekend? It seems obvious, and the show often pulls this stunt when someone they regularly parody ends up actually on the show (see Mick Jagger, Mark Wahlberg, and Hillary Clinton, to name a few). They actually did it the last time Trump hosted, although Hammond's gentle impersonation didn't have much for Trump to get upset about. But that was 11 years ago, when he was an NBC employee, there to promote his glorified game show. This time around, he's a presidential candidate who, I assume, wants to be taken seriously. And something tells me The Donald doesn't "do" self-deprecating humor. Maybe Killam will surprise him? Can't wait to find out!
Image: NBC(8)