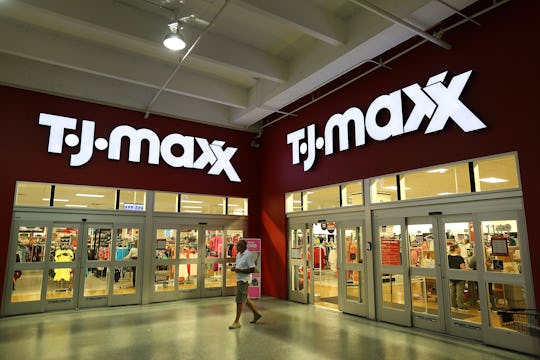 Joe Raedle/Getty Images News/Getty Images
8 T.J.Maxx Hacks Every Mom Needs To Know Like RN
As a mom, you're almost always short on time and money. Which is why T.J.Maxx can be total lifesaver when comes to shopping for housewares, beauty products and clothes for your entire family. A one-stop shop for designer goods at crazy low prices, it's practically impossible to walk out of the store empty handed — even if you don't find the one thing you actually came for in the first place. But searching through unorganized racks isn't for everyone, which is why there are some T.J. Maxx hacks every mom needs to know to make your bargain hunting experience amazing.
From knowing how to read the tags in a snap (each color means a different deal is in store for you), to knowing what exactly the benefit is of owning the store's branded card, there are plenty of mom hacks that will get you the most out of shopping at T.J.Maxx. If you've ever shopped at T.J. Maxx, you already know that the experience can be as exciting as treasure hunting in a place filled with gold, or a total headache. Each week, the shelves are stocked with deeply discounted goodies that will make you feel like you're committing a crime (though you'll have to shift through the crowds, and as with any retail store, sometimes unorganized merchandise to do so). If you think that's cool, there are things you can do to get even more for your money. Signing up for email notifications, finding out when new shipments come into your local store, and following the store on social media are a few simple ways to make sure you are getting the latest and greatest merchandise at the best prices. And for those that would rather shop from their couch than be bothered with lines and crowds, the website is stocked 24/7 with deals that can be delivered right to your door.
While you're there, be sure to do something nice for yourself. I suggest perusing the beauty section for great deals on soaps, perfumes, and cosmetics. Why not splurge on a bottle of bubble bath in your favorite scent? If you're not already a fan, you will be after you try a few of these time and money saving tips.