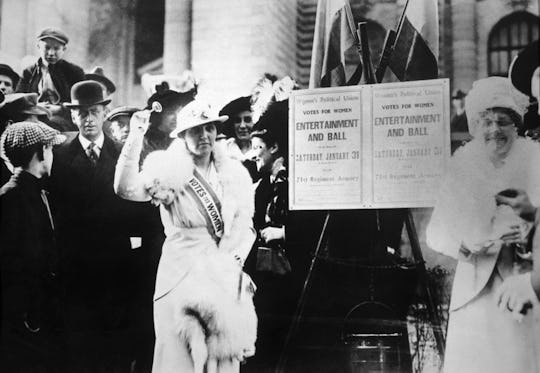 Shutterstock
Here's How You Can Support Women's Equality Day Today & Every Other Day Of The Year
In an attempt to commemorate women gaining the right to vote, Congress declared Aug. 26 to be Women's Equality Day. Although not an official holiday, the United States has marked Women's Equality Day each year since 1971. But while Congress has officially only designated one day out of the year as such, there are many ways to support Women's Equality Day so that its spirit and message carry over to every other day of the year.
After nearly 100 years of protest and activism that began with the Seneca Falls Women's Rights Convention in 1848, women were finally given the right to vote with the ratification of the 19th Amendment in 1920, according to History.com. More than 50 years later, Rep. Bella Abzug pushed Congress to commemorate the 19th Amendment by officially designating Aug. 26 as Women's Equality Day. But according to the National Women's History Project, "the observance of Women's Equality Day not only commemorates the passage of the 19th Amendment, but also calls attention to women's continuing efforts toward full equality."
And until the gender wage gap is closed, the pink tax is eradicated, and women are truly considered fully equal, there's still work to be done, so here's how you can support Women's Equality Day today and every day.