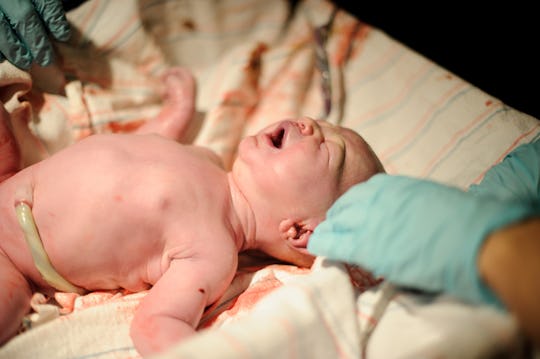 Karen Grigoryan/Shutterstock
9 Amazing Facts About The Umbilical Cord — AKA Your Baby's Life Support
Although it's not anatomically part of your baby, the umbilical cord plays a vital role in their development and is much more than just a tube for transporting nutrition. Most people know that the umbilical cord is a baby's "life line," but there are so many other amazing facts about the umbilical cord that will make you think about it just a little more.
But before you can get to the interesting facts, you have to know some basic information about your baby's life line. According to Family Education, the umbilical cord connects your baby to the placenta, which is attached to your uterus and acts as the source of your baby's nutrients and oxygen. Blood flows in and out of the umbilical cord via three vessels: two arteries, which carry blood away from your baby and to the placenta, and one vein, which carries blood back to your growing baby.
The umbilical cord sustains your baby during their time in the womb, and then, in most cases, is clamped and discarded without a thought. But, believe it or not, the umbilical cord is much more than a lifeline and scientists are still discovering it's potential both in and out of the womb. Here are just some surprising facts about the tiny tubs that keeps your baby alive.