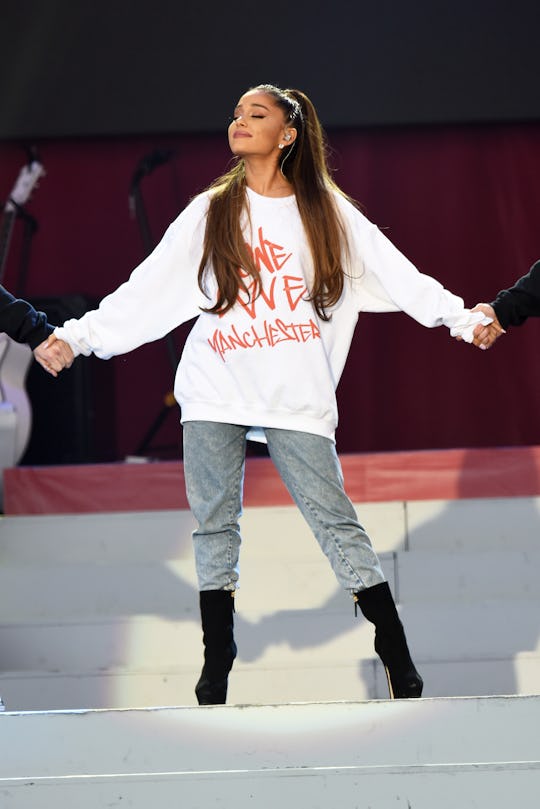 Getty Images/Getty Images Entertainment/Getty Images
9 Awesome Ariana Grande Halloween Costumes For Badass Kids
If your kid knows all the lyrics to the entire Dangerous Woman album, then this year's Halloween costume is probably a given. There are so many ways to create Ariana Grande costumes for kids, because the pop star has already shown off tons of iconic looks. From cat ear headbands to super-high pony tails, Grande has a lot to offer in terms of signature style.
Although she may seem like an overnight sensation, Ariana Grande has worked in the entertainment business for many years. After acting on Broadway and two Nickelodeon televisions series, Grande released her first studio album, Yours Truly, in 2013. But it was her sophomore album, 2014's My Everything, which really rocketed her to pop stardom. With catchy singles like "Problem," "Break Free," and "Bang Bang," My Everything debuted at the top spot on the Billboard 200, according to Billboard. Lastly, her third album, 2016's Dangerous Woman, ushered in a more mature sound for the pop singer, and it even received a Grammy nomination for Best Pop Vocal Album. As her efforts have already shown, the 24-year-old Grande plans to keep her place in the pop spotlight.
Unfortunately, Grande's performances will forever be associated with tragedy. After Grande's concert on May 22, 2017, a suicide bomber attacked the Manchester Arena, resulting in the deaths of over 20 people, according to NBC News. The star immediately offered her condolences over social media, and Grande performed a benefit concert for Manchester in June 2017, which was attended by 50,000 fans, according to CNN. In fact, she was named the first honorary citizen of Manchester for her response to the attack, according to the website for Entertainment Weekly.
This is all to say: if your kid is looking for a role model, Ariana Grande is a pretty great choice, really. Granted, some of her more adult vibes may need to be toned down for your kid's Halloween costume (or not). Seriously: deciding whether to let your 8-year-old run around the neighborhood in black vinyl rabbit ears is a deeply personal parenting decision, so that is 100 percent up to you. While you settle that debate, look to these Ariana Grande costumes for inspiration.