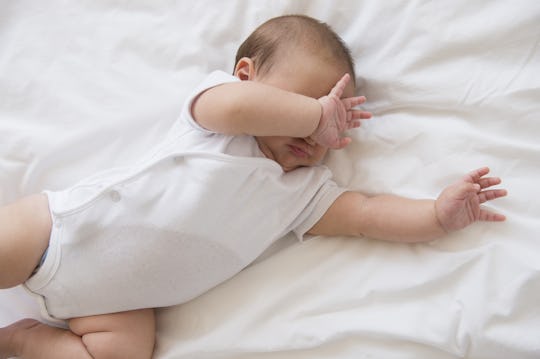 Tetra Images/Shutterstock
9 Bedtime Routines For Colicky Babies That Actually Work
Anyone who's ever cared for a colicky baby knows how hard it is to soothe them. The constant crying can make parents feel like they're doing something wrong and are, at times, helpless. Not to mention tired. Shut eye is hard to come by when you have any newborn in the house, colicky or not. But, there's no doubt, colicky babies can certainly make sleep really hard for everyone involved. While it may seem like a hopeless situation, it's not, as there are bedtime routines for colicky babies that actually work.
When trying different sleep techniques, it's important to remember that nothing a parent does or doesn't do is contributing to the baby's colic. It's not your fault. It's not your baby's fault. Some babies are just colicky, and doctors aren't entirely sure why. Colic typically develops around two-weeks old, and eventually goes away on its own at around three or four months, according to Web MD. The medical site lists some theories about what causes colic which include an immature digestive system, gas, oversensitivity to light or noise, and a developing nervous system.
Because doctors aren't entirely sure what causes colic, it's impossible to cure. But it's not impossible to treat a colicky baby. They can be calmed and soothed to sleep. Every baby is different, so you might have to try a few tricks to before finding what works best for your baby. But finding a bedtime routine for a colicky baby that actually works can go a long way towards happiness and much needed rest for everyone. Here are nine things to try.