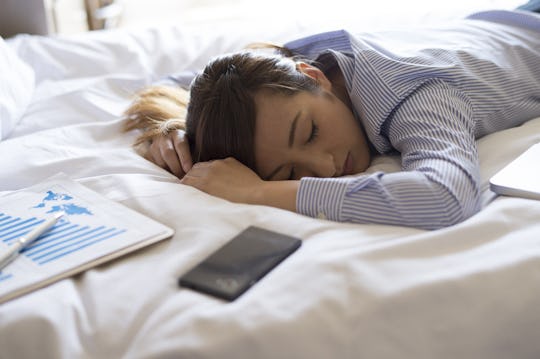 Monet/Fotolita
9 Bedtime Routines For Working Moms That Ensure A Good Night's Sleep
Once you get the kids to sleep, it's easy to delve into the to-do list that's been begging for your attention. With e-mails to answer, shows to catch up on, and laundry to be put away, you could easily stay up until the wee hours checking every item off. But if you're a mom who feels overworked and under-rested, it's time to put some effort into your nighttime rituals. You need some bedtime routines for working moms that ensure a good night's rest. Because a solid night of slumber will have you feeling like a new woman by morning.
According to Very Well's website, "adults need daily sleep rituals prior to going to bed to allow us to unwind and mentally prepare for going to sleep." Giving in to more sleep may seem counterproductive when you have so many responsibilities to take care of, but investing in your rest will ultimately make you healthier and happier over time. Incorporating a few relaxing rituals to your pre-sleep routine will set you up for a solid night of rest, so you'll wake up feeling more energized and ready for your day.
Don't let another night of dreamy s pass you by. Get on board with these nine bedtime routines for working moms and change the way you sleep for good.