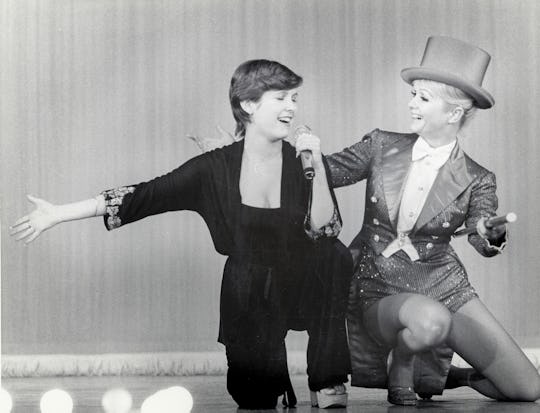 Fisher Family Archives/courtesy of HBO
These Mother's Day Movies Celebrate Moms In Different Ways
There have been so many incredible movies about motherhood over the years. They span nearly every genre you can think of; there are movies that celebrate the bond between mothers and their children, or explore just how complicated that bond can be. With Mother's Day around the corner on May 14, you might find yourself wanting to settle in, either with your mom or your kids (or both!) to watch a movie all about that relationship — in any and every iteration. No matter what kind of movie you're looking for, there are so many options for the best Mother's Day movies that one should be able to fit the bill.
Not every movie will suit every situation, of course. Some are feel-good comfort flicks that will warm your heart during a Mother's Day movie marathon, but other films on the list get a little bit trickier. Whether you want a stress-free one to tune into, something kid-friendly, or something that will unleash the waterworks, hopefully one of the following movies will work for you. It isn't always smooth sailing for the families in these films, but despite how complex the situation can get, one thing is always true: there's a lot of love to be found here.
Freaky Friday
If you're looking for something light and fun for Mother's Day, then the remake of Freaky Friday is the perfect choice. A time capsule of tragic 2003 fashion as well as a zany comedy, you really can't go wrong with this one.
Stepmom
Conversely, if you want to spend your Mother's Day sobbing your eyes out, look no further than Stepmom. A rollercoaster ride of emotional highs and lows, it's a painful but ultimately moving journey.
Crooklyn
Crooklyn is a film that's all about family, particularly the family of young girl Troy, including her four brothers and parents Carolyn and Woody. Matriarch Carolyn is a memorable movie mom trying to juggle five kids and pay the bills, and Alfre Woodard's performance is one you can't miss.
Steel Magnolias
It's not a Mother's Day movie list without Steel Magnolias, right? It's the definition of the term "tearjerker," so if you didn't get out all your sobbing during Stepmom, then follow it up with this classic.
The Namesake
The Namesake tells one family's story as parents Ashoke and Ashima relocate to the United States from Kolkata, have children, and watch those children grow up. While much of the film follows their son, particular focus is paid to Ashima as she adjusts to her new husband and her new life. Watching her come into her own over the course of the film is one of the best parts.
Mermaids
A perennial classic, Mermaids follows Mrs. Flax and her two daughters Charlotte and Kate as they move from town to town every time Mrs. Flax breaks up with someone. It's a coming of age story that never gets old no matter how many times you watch Cher, Winona Ryder, and Christina Ricci dance around that kitchen table.
Saving Face
Protagonist Wil's complex relationship with her mom Gao is just one storyline in Saving Face (much of the film follows Wil falling for her love interest Vivian) but it informs everything about the story and who Wil is as a person. Their relationship also evolves over the course of the movie, with both of them learning more about each other and getting closer as a result.
Postcards From The Edge / Bright Lights
Adapted from the Carrie Fisher novel of the same name, Postcards From The Edge tells the story of a pair of mother/daughter actresses — a story that might seem very familiar to fans of Fisher and her mom Debbie Reynolds. If you're missing both women after their unexpected deaths last year, Postcards is a good way to celebrate them and their specific mother/daughter dynamic. If you're looking for something a little less fictional, there's also the HBO documentary Bright Lights.
Brave
An adorable Disney movie that doesn't revolve around a mom who is no longer with us — what a unique experience! Brave is all about Merida and her mother Eleanor learning to understand each other. You might shed more than a few tears watching them grow closer, even if one of them is a bear for most of the film.
There are plenty of Mother's Day movies to choose from, whether you're looking to laugh or cry — or do both at once.