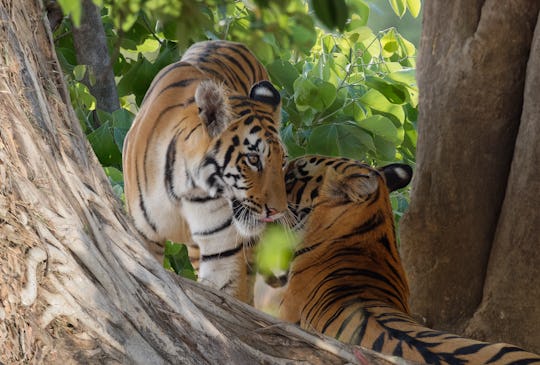 Gabrielle Therin-Weise/Photodisc/Getty Images
Here Are 9 Big Cat Instagram Accounts To Follow (That Don't Involve Joe Exotic)
If the end of Tiger King has left a big-cat-shaped hole in your heart (I'm also desperately missing Joshua Dial, Joe Exotic's campaign manager ), then these nine big cat Instagram accounts will help you get your dose of lions and tigers (and other cats I hadn't even heard of before).
While you wait for the Tiger King scripted series to come out (Nicolas Cage will supposedly play Joe Exotic, reported NBC News), you need look no further than the big cats of Instagram. Not to go full-blown Carole Baskin on you (if only I had her bank account and owned that much animal print), but these Instagram accounts only feature animals in the wild, or in refuges, conservation parks, or safaris. You won't find cub-petting, animals in cages, or tiger babies in cute outfits (unfortunately those do not exist in nature). What you will find are gorgeous images of big cats in their natural habitat.
A safari is out the question right now, but you can take yourself on a digital journey to Africa or Asia (sorry, not Oklahoma) to see some of the coolest, most beautiful big cats around. Read on for nine of the most beautiful big cat Instagram accounts that you don't have to feel any guilt for loving.