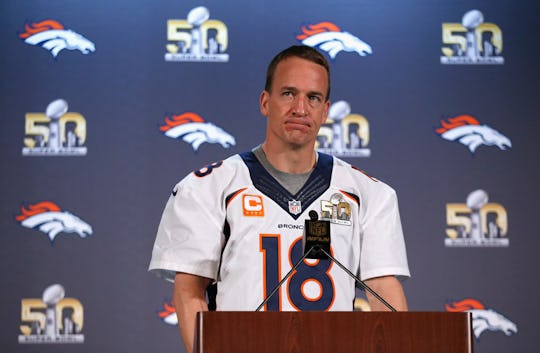 Ezra Shaw/Getty
9 Broncos Memes For Panthers Fans That Get The Smack Talk Started
As you wait for Super Bowl 50 to go down, there are a couple things to do to get ready for game day. Before eating their weight in hot wings, North Carolina Panthers fans will get their giddy on by scrolling through Broncos memes for Panthers fans. Half the fun of sporting events—besides the amazing touchdown dances by muscular men in tights—is rooting for your team. And what better way to do that than giggling at memes to put the opponents to shame? Remember, there's no crying in football, people.
Although the Denver Broncos haven't won a title since 1998, the Panthers made it to the Super Bowl in 2003, where they were defeated by the Patriots. This year, though, Cam Newton and his boys went 15 - 1 to earn their way into the Super Bowl, and NFL buzz has Newton as the league's pick for MVP, according to the NFL News website.
Meanwhile, this is superstar quarterback Peyton Manning's fourth trip to the Super Bowl. Although there's no disputing the man's got one heck of an arm, I think it's time for a new shining star to emerge as the face of the NFL, none other than Panthers' quarterback, Newton. Sunday's game will mark his Super Bowl debut. So, let's cheer him on, by having a chuckle at these memes as you wait for game day to approach.