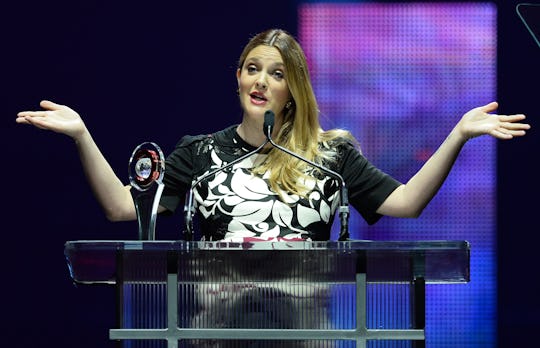 Ethan Miller/Getty Images Entertainment/Getty Images
9 Celebrities Who've Been Honest About Their Postpartum Bodies
When a famous woman in the entertainment industry has a baby, gossip magazines pounce, analyzing her body: When is she going to lose the weight? How did she get "back" to her pre-pregnancy weight? She went to the beach, so this must be the post-baby body "reveal!" The relentless scrutiny is undoubtedly maddening for the actresses, musicians, and public figures on the receiving end, and it's certainly intimidating for non-famous new moms dealing with motherhood and oftentimes unrealistic societal expectations of what they should aspire to look like. That's why it's so refreshing when celebrities are honest about their postpartum bodies.
Many women are making a point to love what they look like after creating life, but the ones who slim down quickly are usually the ones praised by friends and family. For celebrities, the the pressure to shed the extra pounds is enormous, and professional opportunities often depend on it. When they're upfront about the realities of their bodies — and, more important, why they're anything but ashamed of them — they actively fight the idea that women should constantly obsess over their appearance, or that celebrities effortlessly look as though they didn't just incubate another human for nine months.
Here are nine of those badass celebrities who stood up against whacky post-baby body "ideals."
Drew Barrymore
Drew Barrymore is a true MVP of body positivity. The mother of two told Glamour that going through pregnancy twice definitely changed her body — and that she's totally OK with that:
After making two babies, holy cow, does your body do some crazy stuff! It's hard to stay positive and love yourself. You feel like a kangaroo with a giant pouch; everything's saggy and weird. But you think about how beautiful it is that you're able to make children. When I lose sight of that, I exercise, read Dr. Seuss's Oh, the Places You'll Go!, and spend time with my kids. Then I start to see things that are bigger than myself.
Kate Winslet
Six weeks after Divergent star Kate Winslet had her third child in 2013, she found out she had to head back onto set. Her response? "Are you high?!" she recalled in a conversation with E! News. But went back anyhow, despite the fact that her body was still "soft." "Getting into the costume again was a little bit like squeezing a sausage into a thimble," she said, also noting that she was making sure to eat lots and lots because she was breastfeeding. Now that's an expectation I can live with.
Kristen Bell
Kristen Bell told The Today Show what lots of new moms want to tell everyone who's so concerned with the baby weight: Who cares? Amen, Kristen, please continue:
Who cares? I didn't lose my baby weight for over a year. And when I look down, even now, at the extra skin on my belly, it's a reminder that I've done something spectacular. It's a reminder that I'm a superhero. And I'm proud of it.
Amy Adams
Being pregnant helped American Hustle actress Amy Adams understand her "true relationship" with her body, she told Parade in 2010. But she recognized that her career does call for her to look a certain way, so she's balancing that:
I've been working out when I can, and I'm trying to eat in a healthful way, but losing weight is not my number-one priority. It's part of my job to return to some semblance of what I was before. But I don't feel I've ever made my career on my rockin' bod.
Chrissy Teigen
Like Adams, supermodel Chrissy Teigen did want to get back to the ways she looked before pregnancy — but, in true Teigen fashion, she was candid about how she did it. "I worked out more pregnant than I ever did not pregnant!" she said soon after giving birth to Luna Simone in April, according to People. Even Teigen, though, admitted she "wasn't feeling [her] sexiest" about a month after she had her daughter.
Jessica Simpson
Jessica Simpson enjoyed indulging by eating whatever her craving called her during her pregnancy before she had her first child in 2012, she told USA Today. Losing weight is tough for her, she said, but it's also not the most important thing in the world:
I'm not a supermodel. My body is not bouncing back like a supermodel. I'm just your everyday woman who is trying to feel good and be healthy for her daughter, her fiancé, and herself.
Hillary Duff
Duff knows the struggles of being under the paparazzi microscope, as she told People. Still, after she had her son Luca in 2012, she wanted to be nice to her body, and patient with it:
So you feel the pressure because of what people write about you. Not that they're personal attacks, but obviously, when you see "Hilary Debuts Post-Baby Body!" you want to tell people, "No, actually, I was just going out to get a coffee." There are some women who look the same right after — I think they are freaks of nature! I don't know how that happens. I'm not one of those people. It takes your body nine months to get there — really 10 months. So I'm trying to be patient but I'm working hard. And I think now more than ever, I appreciate my body and what it's done for me.
Olivia Wilde
Meet your new hero. Last year, Olivia Wilde was totally honest about what her body looks like now in a profile she wrote of herself in Shape, and it is beautiful:
I am not in perfect shape. In fact, I'm softer than I've ever been, including that unfortunate semester in high school when I simultaneously discovered Krispy Kreme and pot. The photos of me in this magazine have been generously constructed to show my best angles, and I assure you, good lighting has been warmly embraced. The truth is, I'm a mother, and I look like one.
Patricia Arquette
Even though all these celebrity moms are letting the body police know that post-baby weight is just not that big of a deal, some television producers still want the actresses on their shows thin (sigh). In 2007, Medium star Patricia Arquette told a frustrating story on The View about how one of the producers on the show told her to lose weight after she had a baby. But in a small victory, she refused and stayed just the way she was for filming: "This [character] is a mother of three," she told the producer. Yas.
All these talented moms are helping to prove that celebrities are people too, and the only "right" postpartum weight for any individual woman is the one she is comfortable with. Their honestly is a big deal for anyone struggling with the way they look or feel — and for anyone who loves her body and doesn't care what the haters think.