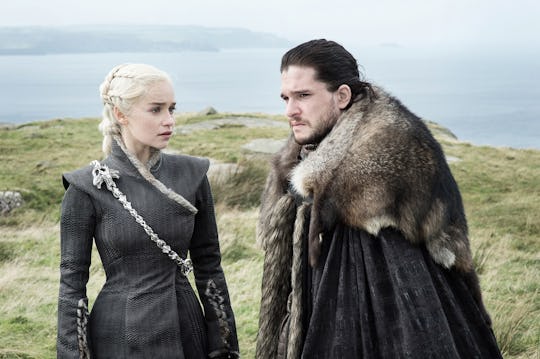 Helen Sloan/HBO
These Celebs Are Obsessing Over 'Game Of Thrones' Just As Much As You Are
Most of the time, celebrities might seem like they're a world away, existing in some universe far from the daily grind of us normies. But there is one thing that unifies us all. Every Sunday on HBO, we're all glued to our TVs at the same time, waiting to see what happens in this week's Game of Thrones. Don't believe me? Here are 9 celebs that love Game of Thrones more than Jon loves Daenerys. Not that that's hard.
Famous or not, it's almost impossible to avoid getting swept up in the pop culture phenomenon that is Game of Thrones. For years it's been everywhere you look, inspiring think-pieces and Twitter threads, spawning everything from makeup collections to mugs. It took the world by storm when it first debuted. Since then, fans have eagerly followed every plot twist, theorized about every possible outcome. Now that it's ending with Season 8, the excitement has ramped up to another level. Everything seems more final when you know the episode count is so finite.
Since the show is inescapable, it makes sense that celebrities would be just as enthralled as everyone else. After all, that old adage is true in some ways: celebs, they're just like us.