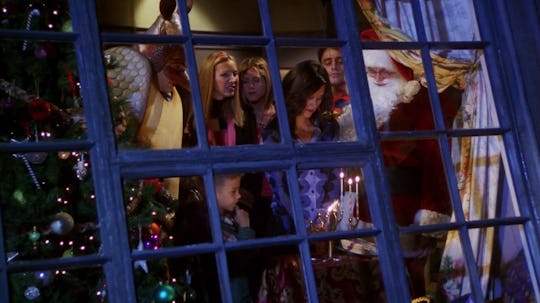 Netflix
9 'Friends' Christmas Episodes That Are Even Better Than Cheesy Holiday Movies
While many people are cozying up with Christmas movie upon Christmas movie this time of year, I prefer to stick with the classics. And by classics, I mean the holiday episodes of my favorite sitcoms of yore, yore here meaning the '90s. So now seems like the perfect time to reminisce over every Christmas episode of Friends, in chronological order (because I love them all equally).
On Friends, the six main characters are more like family than buds. So, unlike workplace comedies like 30 Rock and Parks and Recreation, almost every season has Thanksgiving, Christmas, New Year's Eve, and Hanukkah episodes. After marathon-watching all of Friends' Thanksgiving episodes last weekend (which I highly recommend, by the way), I have officially moved onto the Christmas episodes.
I'd recommend watching them all in order because it's fun to watch how the characters progress over the course of a decade. Well, over the course of nine years, that is, because Season 10 is inexplicably Christmas-less. Womp-womp. But anyway, as you probably already know, all of Friends is on Netflix, meaning marathon-watching all of the below episodes will take almost no effort at all.
So without further delay, here's the rundown on Friends' Christmas episodes.