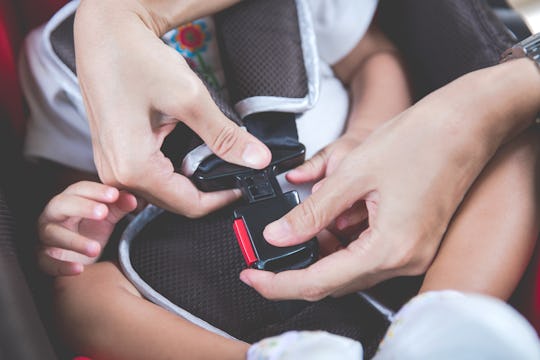 Odua Images/Shutterstock
9 Deadly Car Seat Mistakes Most Parents Make Without Realizing
A parent's main job is to keep their child safe and, for the most part, they do a good job. Unfortunately, there is one area where parents struggle to protect their kids 100 percent — the car. Due to the ever-evolving research and guidelines, there are a lot of common car seat mistakes parents make without realizing it.
Car seat mistakes are seen everywhere, not just on the roads. Movies and marketing ads often feature improper car seat usage. And if parents see something enough times, even if it's done wrong, some start think it's the correct way. That can't happen — kids need to be as safe as possible, especially when riding in cars.
"The leading cause of death in kids between ages 3 and 14 is still car crashes," Christie Heltzell, a child passenger safety advocate and former technician with Safe Kids Worldwide, tells Romper. "When you then take into account that there's so much misinformation, confusing labels, questionable marketing tactics, and even lack of good, honest help, it's no wonder that 72 to 84 percent of car seats are being used critically wrong, meaning that there's a potentially deadly mistake in safety for three out of four kids."
It important to review the following car seat mistakes parents make, to help you not make them, and keep your kids as safe as possible.