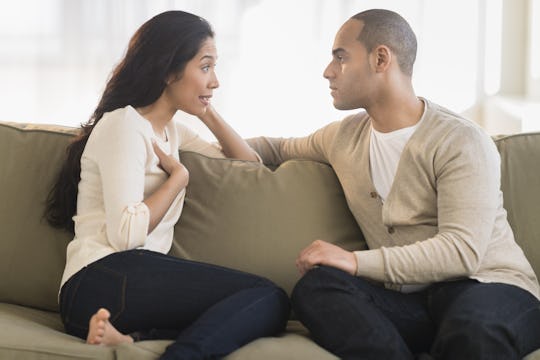 Tetra Images/Fotolia
9 Conversations To Have With Your Partner If They're Infertile
"I always wanted children, even more than I wanted to get married," Jennifer Palumbo, director of patient care at New York-based fertility service Progyny laughingly tells me during an interview. "I just always wanted to be a mom." In fact, it was her own experience with infertility, ultimately led her to her job. "When I was going through treatment there were so many things, I didn't know what to ask," Palumbo recalls. Neither did her husband. Through her own journey she learned there are conversations to have with your partner if they're infertile (or if you're the one that's infertile) that will help you plan ahead.
The fertility journey can be fraught with overwhelming information and emotions, says Palumbo. And it was certainly a journey she never expected to go on as a newlywed. "When I got married at age 34, and by all accounts that's not old, we started trying to conceive and nothing was happening," Palumbo says. She became aggressive and proactive, searching for answers. Eventually medical tests revealed that she had an egg quality issue.
Infertility can be really taxing on a relationship. Palumbo says through her involvement in the infertility community, she's seen couples really suffer, especially when they disagree about their options. And sadly, she's seen plenty of divorce from it too.
One thing Palumbo recommends for couples struggling with infertility based on her own experience, is therapy. She says talking about infertility with an objective party really helped her and her husband connect and have healthy discussions. Whether a couple seeks help or not from a professional, there are nine conversations you'll want to have with your partner if you're faced with infertility.