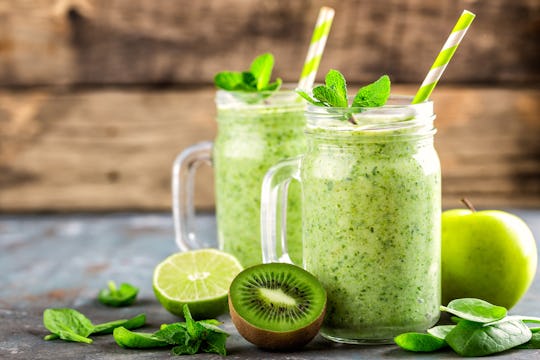 Sunny Forest/Fotolia
9 Easy Kid Foods To Turn Green, Just In Time For St. Patrick's Day
The best part about having kids is that you get your own personal crew to celebrate the holidays with, in all your color coordinating and matching glory. And with St. Patrick's Day right around the corner, you are obviously working on turning everything in your life green. You can pick up coordinating outfits and home decor, but you're going to have to get creative with your family's meals. You're in luck, because here are 9 easy kid foods to turn green, just in time for St. Patrick's Day.
Whether you are cooking for a party or just for your kids, a festive green spread will look amazing. You can add the traditional Shamrock Shakes and sweet treats, but you can even try to sneak some green veggies into your recipes for healthier, kid-friendly versions. Vegetables are my daughter's enemy number one, so St. Patty's Day gives me a chance to introduce her to green stuff under the guise of celebration. Sneaky, right?
To get your little leprechauns excited (and to have a pin-worthy table), try finding holiday-themed tableware to serve your food in. With your lucky green shirts, beaded necklaces, and these yummy recipes, your crew will be ready to celebrate St. Patrick's Day with fervor. Turns out, it's actually pretty easy being green.