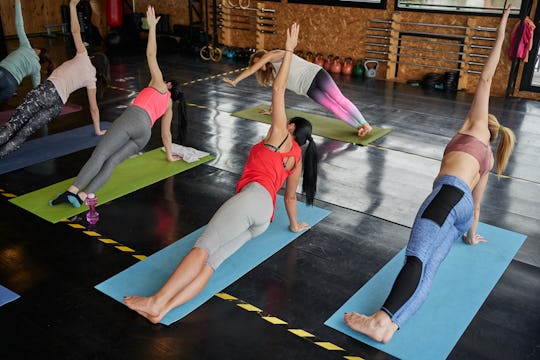 FluxFactory/E+/Getty Images
9 Exercises For Endometriosis Pain, Should You Want Some Natural Remedies
If you suffer from endometriosis, then you know that the condition is no joke. It can become debilitating and very disruptive to your everyday life. That said, there are plenty of steps you can take to alleviate some of the symptoms of endo. In fact, the exercises for endometriosis pain could help you cope with endo better than ever before.
First, a quick review: endometriosis is a chronic disease that affects over three million American women, and it occurs when uterine tissue develops outside the uterus, as noted by the Endometriosis Association (EA). Misplaced tissue may not sound like a huge problem, but women who suffer from endometriosis may face extremely painful periods, gastrointestinal upsets, and even infertility, as further outlined by the EA. Sadly, as explained on WebMD, endometriosis cannot be cured, only managed. This is where exercise may help out.
Although a more thorough review of physical exercise's full effects on endometriosis is still needed, according to a 2014 study in Reproductive Biology and Endocrinology, getting active is often touted as one way women can manage endometriosis pain all on their own. For instance, according to the Mayo Clinic, regular exercise may be a potential way to lessen endometriosis symptoms. Read on to learn how many different types of exercise, from yoga to high-intensity cardio, just might make your endometriosis more bearable.