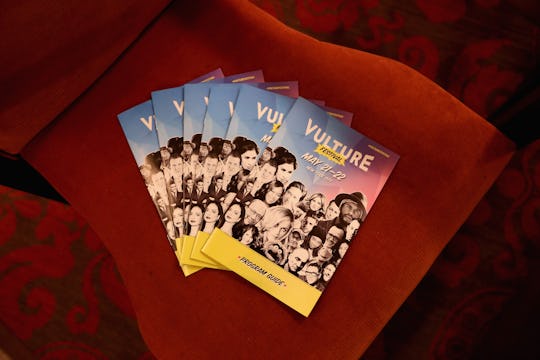 Anna Webber/Getty Images Entertainment/Getty Images
The Most Feminist Panels At Vulture Festival 2017
Vulture is hosting its fourth annual festival over the weekend of May 20 and 21 in New York with a series of events intended to celebrate everything happening in media right now, whether it's TV, film, or music. There will be panels, screenings, and podcast recordings, as well as live music, food and drinks, and even a pop-up shop. Vulture recently released the lineup for the festival, and there's definitely something for everyone amongst the thirty or more events set to take place. But if your main interest is in which panels promise to be the most woman-friendly, than you might be wondering which are the most feminist panels taking part in Vulture Festival 2017.
While there's so much to offer at Vulture Fest, a solid portion of the events on the schedule focus on female-led projects. Whether that means signing up to watch a recording session of your favorite lady podcasters or enjoying an in-depth interview with a successful actress, there's more than a few interesting events on the horizon. There are also jam sessions and screenings to be had, so if your interest is piqued by the pop culture explosion that is Vulture Fest, look no further: here's everything you need to know about the women-centric projects happening over the course of the weekend.
Connie Britton, Y'All
An exclusive interview with the greatest hair to ever hair, and the woman who grows it out of her head. Just kidding! As the much-beloved star of Nashville and Friday Night Lights, Britton will probably have much more important things to talk about than hair care. (But seriously, what is her secret?) Saturday, May 20, 1 p.m. to 2:30 p.m.
Bitch Sesh
Bitch Sesh is a podcast all about the Real Housewives and whatever crazy shenanigans they're getting up to, hosted by Casey Wilson and Danielle Schneider. With plenty of comedy and personal stories, it's a live podcast recording that's not to be missed if you're a serious Bravo junkie. Saturday, May 20, 2 p.m. to 3:30 p.m.
2 Dope Queens
Jessica Williams and Phoebe Robinson host the podcast 2 Dope Queens, which focuses on giving a platform to female comedians, comedians of color, and LGBT comedians. They also cover a myriad of topics from politics to dating – it's basically everything you could want in a podcast. Saturday, May 20, 1 p.m. to 2:30 p.m.
Brit Marling Explores The Meaning Of Life
Brit Marling, the creator and star of the Netflix series The OA, will give a talk about the series, as well as discuss the meaning of life. So, you know, really light stuff. (Fingers crossed for Season 2 spoilers!) Sunday, May 21, 11 a.m. to 12 p.m.
Playing House Pajama Brunch
Playing House lead actresses Jessica St. Clair and Lennon Parham will have a chat with Vulture senior editor Jesse David Fox over cocktails and pastries while dressed up in their finest pajamas – which any guests are required to don as well. Sunday, May 21, 11 a.m. to 12:30 p.m.
Sarah Jessica Parker & Adam Moss: In Conversation
Sarah Jessica Parker will sit down for a conversation with New York Magazine editor-in-chief Adam Moss. Maybe she'll have some insight on how Sex and the City impacted the representation of women in media. Or maybe not! Finding out is half the fun. Sunday, May 21, 1 p.m. to 2:30 p.m.
Feminist As F*ck With Amber Tamblyn
This one makes it easy for you by putting the word "feminism" right in the title, so you know exactly what you're going to get. Amber Tamblyn will host the reading series Feminist As F*ck, which she co-created with Roxane Gay in 2014, to showcase feminist writers, actors, comedians, and musicians hand-picked by Tamblyn and Gay. Sunday, May 21, 1:30 p.m. to 3 p.m.
An Afternoon Jam Session
Sisters Katie and Allison Crutchfield, of the indie music project Waxahatchee, will have a jam session with interested parties. Sunday, May 21, 4 p.m. to 5:30 p.m.
Chelsea Handler & José Andrés Heat Up The Kitchen
Not quite a panel, but definitely something that's sure to have its share of chatting and jokes, Chelsea Handler and José Andrés will host a cooking demo. Sunday, May 21, 7 p.m. to 8:30 p.m.
There are also going to be screenings of upcoming women-centric shows like Lifetime's Mary Kills People (which stars Caroline Dhavernas as a doctor illegally engaging in assisted suicide) and I'm Sorry, a TruTV slice of life comedy following creator and star Andrea Savage as she balances her comedy writing career and her personal life.
The 2017 Vulture Festival will have panels and podcasts, music and food: basically anything and everything, so there's sure to be something for you.