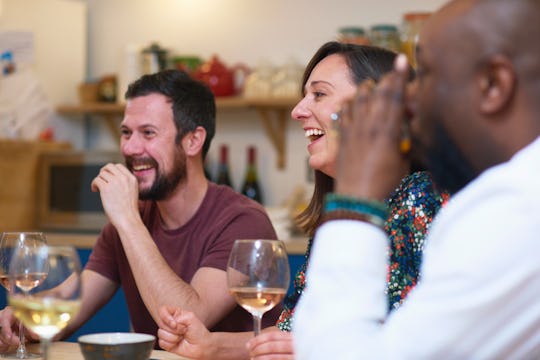 Cultura/Shutterstock
Your Group Will *Really* Get Into These 9 Fun Games At Friendsgiving
Friendsgiving is one of my favorite modern additions to the holiday season, especially because its main goals are eating and getting drunk without the family drama. However, these events can get a little awkward if you're mixing multiple friend groups, or if the food takes longer to cook than expected (antsy, hungry people are my nightmare). That's why I propose adding fun Friendsgiving games to your party lineup this year.
Before you start rolling your eyes at me, hear me out: people love playing games. At some point during their adolescence, many people start acting like they're too cool for games, but I've seen enough grown ups scream at a video game or cheer during beer pong to know that adults don't magically lose their love of competition. If you allow yourself to get into a game, you'll remember why Monopoly was one of the best things ever created in no time.
Even as an adult, I've gone to a few parties recently where the main point was to gather to play games and always have the best time. During an intense round of Scrabble, no one is looking at their phones, having a side conversation, watching tv. Instead, people are actually interacting and bonding, which is what Friendsgiving is all about. Including games in your party could be the key to unlocking that beautiful feeling of friendship you had in mind when you planned the event.
If I've at all convinced you that games aren't lame and your Friendsgiving party needs them to thrive, read on for nine party game options that will not disappoint. Pro-tip: A substantial glass of wine makes each of these games even more fun.