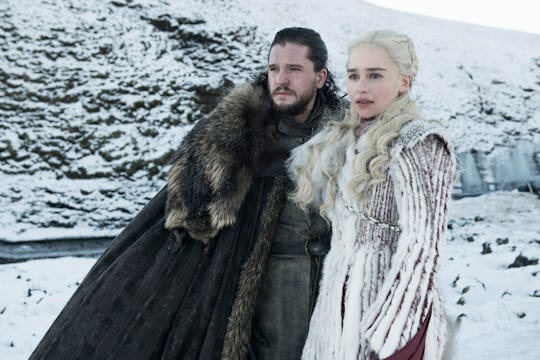 Helen Sloane/HBO
Celebrate The Return Of 'Game Of Thrones' With These Themed Products
Game of Thrones returns to HBO on Apr. 14 for its eighth and final season. Now that the end is near, viewers may want to do some celebrating to make sure they enjoy the final six episodes in style. Whether you want to spice up a Westeros-themed party or buy a gift for the superfan in your life, surely one of these 9 Game of Thrones themed products will be exactly what you're looking for.
Game of Thrones branded content has exploded in pretty much every market: you can find makeup that will make you feel like the Queen of the Iron Throne, or home decor to give your house that Westerosi flair. You can light a candle that will transport you to the courtyard at Winterfell or pour yourself a drink that would impress Queen Cersei. You can fit a little Game of Thrones into your life in whichever way suits you best. And maybe having something tangible will make it easier when the show finally concludes; soon there won't be any new episodes to look forward to, but your House Stark eyeshadow palette is forever.
Without further ado, here are some Game of Thrones themed products to help you celebrate the end of the series.