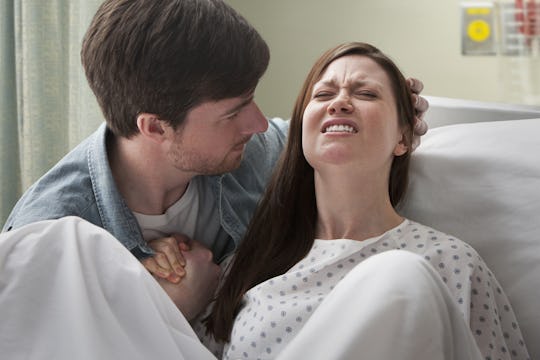 Amble Design/Shutterstock
9 Gross Things About Labor & Delivery That Are Totally Normal
Just in case anyone was under any illusions, childbirth isn't a ray of sunshine. As beautiful, natural, and exciting as having a baby is, there are actually a lot of gross things about labor and delivery that most moms don't picture when they imagine the scenario. For example, most moms imagine the movie-like scene for the first time they hold their tiny, squirmy, fully cleaned baby, unaware that said baby will be the opposite of squeaky clean the first time they hold them. Thanks for nothing, Hollywood.
But, when it comes to giving birth in real life, full disclosure is always the best policy. It's better to be prepared for the beautiful and the not-so-beautiful moments of your labor so you won't be caught off guard.
When it comes to labor, nothing is off limits. Your bodily functions (yes, all of them) will be in overdrive, and with your energy fully focused on birthing your child, you likely won't even notice most of them. The best policy is to just laugh off these semi-gross moments of delivery. Your doctor has seen it all a thousand times, and in the grand scheme of things, there are more important things to worry about — like that cute, vernix covered baby.