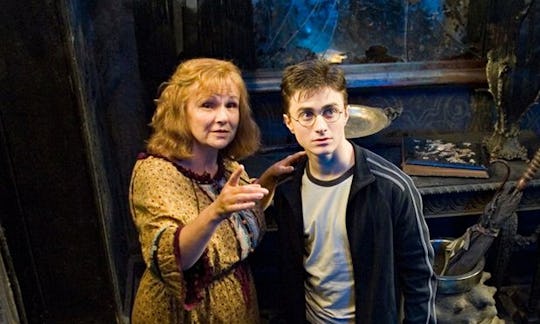 9 'Harry Potter' Quotes About Family That Prove It's More Powerful Than Magic
If there's one common thread throughout the Harry Potter series, it's the concept of family. And in true Rowling fashion, the idea of family is nuanced, complex, and powerful. As these nine Harry Potter quotes about family reveal, close familial bonds extend beyond blood relationships or even death.
Harry's longing for the parents he never really knew is a constant theme, and the living family he does have — the cold and callous Dursleys — are a far cry from the familial warmth he seeks. But family is not only about blood relations, as Harry finds consolation in his relationships with parental figures such as Dumbledore and Sirius. And by learning about his parents from those who knew them, Harry is able to maintain his bond with them long after their deaths.
Furthermore, other characters embody the spirit of a happy family, perhaps none as well as the Weasleys. The seven Weasley children and their parents have all the dynamics of a normal family such as sibling rivalries, a fun-loving father, and a mother who holds them all together. Their warmth and closeness show Harry what a loving family can be like, and they draw him into the fold. Overall, Rowling shows that families can come in many forms, and that the bonds they share are powerful magic indeed.