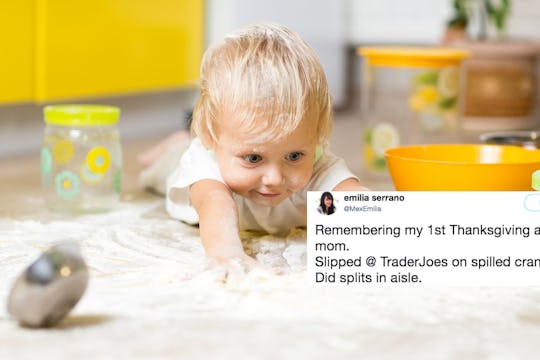 Oksana Kuzmina / Fotolia
9 Hilarious Tweets That Totally Sum Up Thanksgiving As A New Mom
Thanksgiving is a time to gather with friends and family. If you were pregnant last year, it was probably the breeziest, most relaxing Thanksgiving celebrated yet as no one let you lift a finger. But once that baby pops out, the holiday becomes a whole other obstacle. As these hilarious Thanksgiving tweets for new moms reveal, you're not the only new parent that's feeling overwhelmed on turkey day.
Sure, plenty of people find the holidays stressful, but this stress is taken to a whole different level when your newborn enters the picture. If you're breastfeeding, good luck maneuvering a feasting baby on your boob and a plate full of your favorite holiday fixins. Plus you'll probably pass on the holiday booze. Oh, and trying to find a private place to nurse in a crowded holiday home can become a chore all on its own. Then there are all the relatives who will likely ask super-personal questions about your parenting style and when you're going to have another. Seriously: can the first baby hit the one-year mark before people start pestering you to have a second one?
Thankfully, you can find solidarity in the experiences of other moms. All across the country, new moms are dealing with the same Thanksgiving issues from nosey relatives to mid-meal crying jags. Most everyone has the same general experience: It's hard to play hostess, cook, and socialize when all you want is to do is put your baby down for a nap and take a snooze break yourself. For many new moms, turkey day is for the birds.