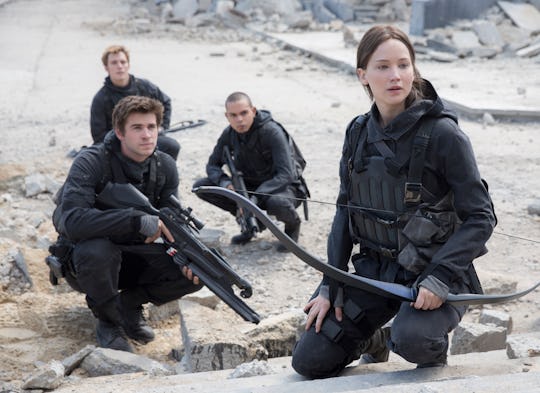 9 'Hunger Games' Baby Names For Your Future Mockingjay
Even though it chronicles a dystopian future in which children must battle to the death, it actually makes sense to look for baby names inspired by the Hunger Games. Let me explain. It works because the characters in it are so strong and memorable, which would leave a lasting legacy for your kid. And not only that, but there hasn't been an abundance of fresh, unusual, and desirable fictional names to work off since Harry Potter. Suzanne Collins certainly went the extra mile when selecting names in her epic trilogy, giving characters both unique titles and embedding name origins with deep meaning within the story. For example, characters from the poorest districts tend to be named after the earth, while those from the capital have names that harken back to Roman times. But each individual name goes much further than that, too.
You couldn't do much better than the Hunger Games when seeking out a unique inspiration for baby names. While other popular series may have a few interesting ideas to work with, this trilogy wins out just because of the sheer abundance of original and innovative names if has to choose from. While you're still wondering what the gender might be, take a look at this list of names from both genders that are up for grabs for your baby and start imagining the Hunger Games-inspired possibilities.