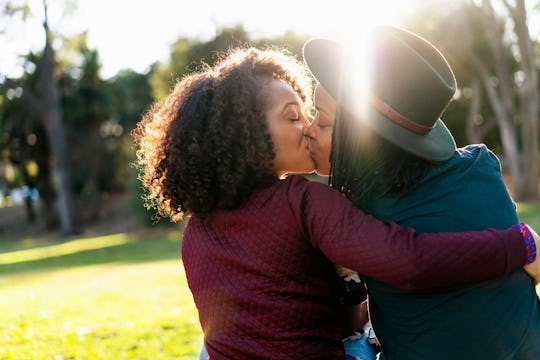 Image Source Trading Ltd/Shutterstock
9 Kissing Myths To Keep Out Of Your Head Next Time You Smooch
In sixth grade I was dying to have my first kiss. No other experience has been as equally exciting and horrifying as the anticipation leading up to that moment. Experiencing that monumental event consumed my thoughts and fed my longing, but all those kissing myths that circled around the lunchroom table sure did inflate my sense of dread. Was I really safe to swap spit with whomever I fancied? Would the encounter mean nothing to the boy with whom I locked lips? And (Please, God, no) would my lack of frenching technique totally expose me as a first timer?
After the awkward first kiss in the back of a movie theatre during a game of Truth or Dare, I continued to gather more knowledge — both true and false — around the mysterious and alluring world of kissing. Without even being fully aware, I had bought into some info about kissing that has turned out to be absolutely wrong. Yet people still perpetuate these myths, sometimes without even realizing they're doing so. But it's time to set the record straight.
The next time you hear someone whisper at the water cooler, "It was just a kiss, it didn't mean anything," you can use your new knowledge to educate them on all nine of these kissing myths.