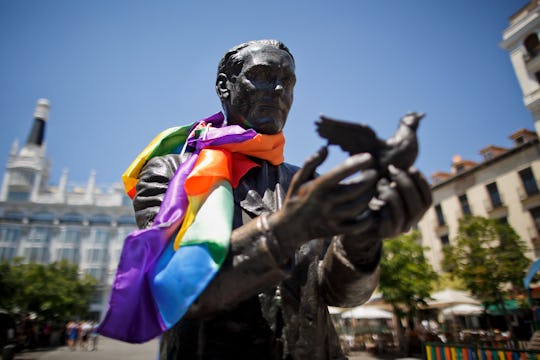 Pablo Blazquez Dominguez/Getty Images Entertainment/Getty Images
9 LGBTQ Organizations To Donate To During Pride Month
For many people, the month of June hold special significance, because it is Pride Month. It's a time to celebrate LGBTQ history and help further the cause for future generations. Once way to do that is by learning about the many LGBTQ organizations to donate to during Pride Month. Believe me when I say there are some truly awesome organizations out there dedicated to the legal, financial, and emotional well-being of LGBTQ persons.
Why does Pride Month fall in June? According to the Library of Congress, June was chosen as a way to honor the Stonewall riots of 1969, in which members of the LGBT community stood up to a police raid. At the time, police raids on gay and lesbian facilities were common, but the patrons of the Stonewall Inn rioted against this injustice. The start of gay rights organizations, as well as marches, soon followed. Stonewall is now a national LGBT monument, as reported by Bustle, and the month of June is an appropriate time to highlight today's hardworking LGBTQ organizations.
From legal council to workforce rights, these organizations help LGBTQ persons feel more welcomed by mainstream society. Each of these organizations deserves more attention for the wonderful services they provide. The brief description given here is only a summary of each org's offerings, and I encourage you to learn more about all of them. The people doing good work at these places deserve all the support in the world.