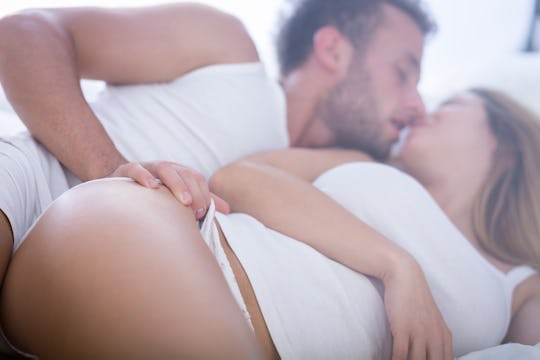 Photographee.eu/Fotolia
9 Little Things To Do During Doggy Style To Make It Better
Doggy style is a position known for deep penetration, which is probably why every guy I've slept with can't wait to get into it. And while many women also enjoy this position, there are little things to do during doggy to make it better. Because, with sex, there's always room for improvement.
The ancient Greeks and Romans practiced doggy style, referencing the position in art and literature. Roman philosopher Lucretius also called doggy style a fantastic position for conception, as noted in the Journal of Roman Studies. As a Latin scholar (and professional pervert), I can attest to the fact that the ancients knew how to have a good time.
There's also the fact that this position is named after man's (and woman's) best friend, even though horses also mate in this position, according to the Ministry of Agriculture, Food, and Rural Affairs. The point here is that doggy style is a mammalian primal position, where groaning, moaning, and grunting is totally encouraged.
As an added bonus, sex columnist Frank Kobola wrote in Cosmopolitan that doggy makes a hot sexual finale, calling it the "'Freebird' sign-off to sex." And because that deep penetration can help your partner reach your G-spot while you (or your partner) stimulate your clit at the same time, it's likely you'll be climaxing in this position as well, noted another article in Cosmopolitan. With that in mind, if you've been hesitant about this position, consider the following tips that might make doggy a little bit better.