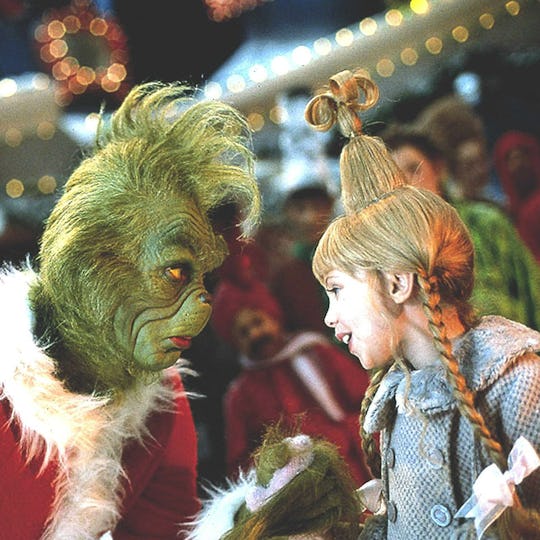 9 Movies From ABC Family's 25 Days Of Christmas To Share With Your Kids
December has arrived, which means ABC Family's 25 Days of Christmas begins today. An unofficial start of the holiday season, ABC Family's month-long celebration provides parents with plenty of holiday movies to share with the kids. The channel's lineup of holiday programming features favorites from every generation, be it claymation specials or more modern movies like Fred Claus. No matter your cinematic preference, ABC Family's 25 Days of Christmas schedule is packed with the must-see movies of the holidays.
It's common for families to limit screen time, especially during long breaks from school. There's nothing quite as wonderful, though, as settling in on the sofa with mugs of hot chocolate for a morning of magic or an evening with elves. It's a treat for moms, too: as you're managing one of your first seasons as Santa's helper, a fun Christmas special offers some sweet escapism.
The 25 Days of Christmas model makes it easy for kids to do what they love: watch the same things over and over again. Of course, one of the most wonderful parts of being a mom is sharing childhood favorites with your own kids. As you're sorting through TV schedules to determine what to watch this month, here are ninr movies from the ABC Family lineup that you won't want to miss.
1. Mickey's Once Upon A Christmas
This special is basically a big lesson in love and gratitude from Donald Duck, Mickey Mouse and the whole Disney gang. Fun fact: Kelsey Grammer narrates!
2. Dr. Seuss' How the Grinch Stole Christmas
It's impossible to forget the first time you see Jim Carrey transformed into the green antihero of Dr. Seuss' tale. Plus, who doesn't love seeing Taylor Momsen as Cindy Lou Who (with Sesame Street's Mr. Noodle, Bill Irwin, as her dad)?
3. The Year Without A Santa Claus
When Santa decides to take the year off, it's Mrs. Claus who saves the day. In a Christmas season filled with male-focused storylines, it's good to see a strong woman on the screen.
4. Mickey's Christmas Carol
The classic tale is even better when all of the parts are played by Disney characters. With Goofy as Marley and Pete as the Ghost of Christmas Past, this version lacks the fear factor of some other retellings of Scrooge's journey.
5. National Lampoon's Christmas Vacation
Sledding, string lights, and a squirrel — this Christmas classic is fueled by unforgettable slapstick. When your kids are getting restless during dinner prep or a shopping trip, this movie reminds them to be thankful they aren't spending the season with the Griswolds.
6. The Polar Express
Yes, the early aughts animation edges on creepy, but it's really difficult not to love this adaptation of the beloved children's book. Kids will spend December evenings listening for the train whistle. Who wouldn't want to take a trip to the North Pole with Tom Hanks' conductor?
7. The Santa Clause
Despite the somewhat morbid premise - Tim Allen's character becomes Santa Claus after his predecessor falls off the roof - this movie perfectly captures the magic of the North Pole. Plus, who didn't have a major crush on Bernard the Elf?
8. Elf
From "Smiling's my favorite" to "Santa's coming", Elf might be the most quotable Christmas movie of all time. After watching, be prepared for your kids to spend the next week pouring syrup on their spaghetti and stuffing cookies in the VCR.
9. Santa Claus Is Comin' To Town
As Fred Astaire's narrator reminds us, if we all embodied the generosity and selflessness of Santa Claus, "maybe there would finally be peace on Earth and good will toward man."
Images: Universal Pictures