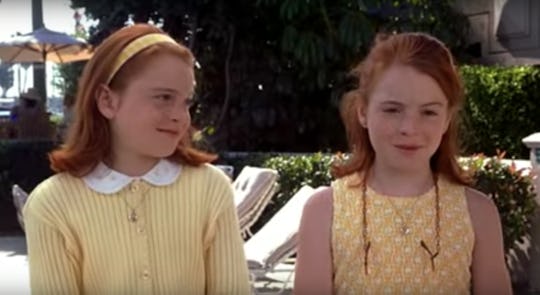 Walt Disney Pictures
Celebrate Twin Day With These 9 Movies & Shows About Twins
It's Twin Day today, which means it's time to take a look at some of the most memorable media about twins. Whether fraternal or identical, twins have had a strong presence in cinema, television, and literature for centuries, though the tropes associated with twins aren't always the most positive. What would a soap opera be without an evil twin or two, after all? But these 9 movies and shows featuring twins will keep you feeling positive for Twin Day, even when they edge into more serious topics.
Twins are popular for numerous reasons. Actors love to show off their skills by tackling a dual role, so everyone from Bette Davis to Armie Hammer has twins on their resumé. Twins can provide a narrative with surprising twists, giving thrillers and mysteries some added stakes when it's revealed that one character has actually had an identical sibling all along. Twins are also huge in media for young adults: Sweet Valley is iconic, and the Disney Channel never met a girl they couldn't put a wig on. Twins can be foils or rivals, best friends or long lost secrets.
There are countless twins in movies and TV, but here are a few that you can enjoy on Twin Day without having to stress about it.