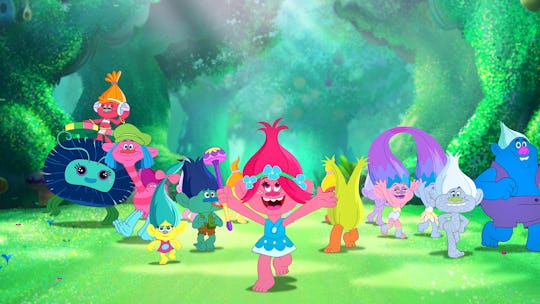 Netflix
9 New Kids Shows Of 2018 That Could Easily Become Your Kid's Next TV Obsession
Kids rarely get bored of watching the same TV show over and over again, but when the theme song to their favorite series gets stuck in your head, you know it's time to move on. With so much new content available, you may not know where to start. So, to make your life a little easier, here's a list of nine of the best new kids shows of 2018.
The age of Saturday morning cartoons is over, and with all the numerous emerging media platforms out there, networks are continuously competing to nab the biggest child audiences. The result is tons of fresh content for kids to choose from, and whether it's on cable TV or streaming, it is getting easier for youngsters to find something new and engaging to watch.
This year was big for movie spin-offs — with Boss Baby: Back In Business and Trolls: The Beat Goes On! debuting on Netflix and Big Hero 6: The Series premiering on the Disney Channel. If your kids were fans of the movies, they should get a kick out of these new series.
So, if you're tired of constantly humming the tune to Doc McStuffins and Daniel Tiger and are ready to dive into some of the best new kids shows of 2018, this list is a great place to start.