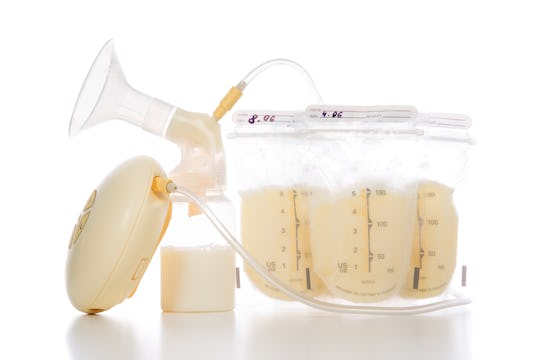 Dmitry Lobanov/Fotolia
9 Products To Help You Store Breast Milk, Because Pumping Doesn't Have To Be Complicated
The life of a breastfeeding mom who also pumps is never dull. From actually nursing your baby, to scheduling extra pumping sessions, to finding products to help you store your breast milk, and all of the millions of other things you do, the last thing you need is to worry about buying a laundry list of unnecessary products you won't actually use.
Granted, pumping requires you to purchase a few more things than nursing alone does, but the products you do invest in will be well worth the cost, saving you both time and effort.
As a mom who only pumped when I needed to, I can't understand the stress and foresight that it must take to pump exclusively, pump while at work, or even just "more than occasionally." But even in my limited pumping experience, I can attest to the benefit of investing in the essentials. For me, that meant a high quality pump and storage bags that were safe and effective. For other moms, the list of essentials might be much longer.
However often you plan to pump and store your milk, it's important to make sure you're using the right tools to not only store your "liquid gold" effectively, but safely as well, ensuring that pumping doesn't slow you down one bit.