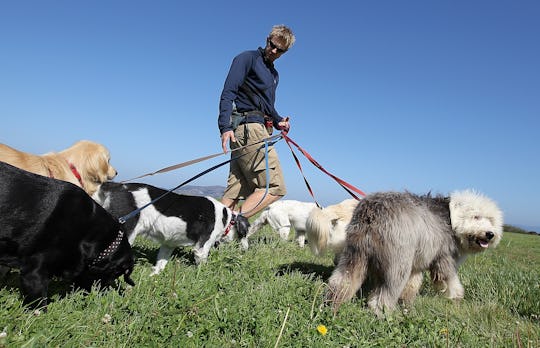 Justin Sullivan/Getty Images News/Getty Images
9 Questions To Ask A Dog Walker Before Hiring Them, Because Fido Needs The Best
Dogs absolutely love going for walks, but sometimes work or family obligations don't let you break out the leash as often as you'd like. In these instances, a dog walker can be a life saver, as long as you choose the right one. These questions to ask a dog walker before you hire them will help you feel confident in your decision. After all, you're hiring someone to help out with an important member of the family, so a little vetting is smart.
For starters, it's awesome that's you're considering hiring a dog walker. Regular walks are not only great for your dog's health, but they also stave off boredom, as noted by the Animal Foundation. Basically, regular walks benefit both your dog's body and mind.
And as it turns out, dog walking is pretty serious business. In fact, the dog walking services industry as a whole pulled in $1 billion in revenue in 2017, as explained in IBIS World. The whole world of professional dog walking has grown over the past five years, as IBIS World further explained. And this is great news for you, because it means there's more choices than ever before. You can be choosy and pick the dog walking service that's right for your family.