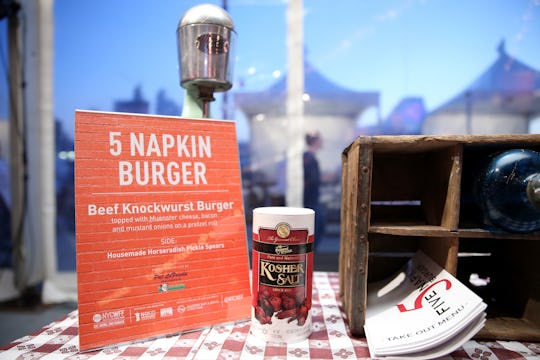 Neilson Barnard/Getty Images Entertainment/Getty Images
9 Restaurants Offering Free Dinner On Mother's Day
When you're a mom, it can feel like you hardly ever get to enjoy dinner at an actual restaurant (or even in your own home). So moms the world over are probably ready for a special Mother's Day meal that they can, you know, actually enjoy. The good news, of course, is that you don't have to break the bank to give mom a nice meal, either. In fact, there are more than a few restaurants offering free dinner on Mother's Day. Honestly, who doesn't like free food?
From places with fancy steak dinners to laid-back burgers joints, restaurants all over the United States are offering moms free dinner, brunch, and desserts on Mother's Day. At Medieval Times locations, moms can enjoy free dinner, as well as medieval-style entertainment, May 1 - 13, with the purchase of another adult entrée. Lunchbox Laboratory locations in the Seattle, Washington area are offering free meals on Mother's Day for moms with tattoos (including the temporary tattoos they're handing out!). Food Network Fans can enjoy free Mother's Day brunch at Guy Fieri's American Kitchen and Bar, in The Villages, Fla. And if you are looking for something sweet in the New York City and Boston locations of 5 Napkin Burgers are offering free desserts for moms on Mother's Day.
In other words, you have options. For more information on how a hungry mom can score free food on Mother's Day read on, because you totally deserve for dinner to be someone else's problem. For once.