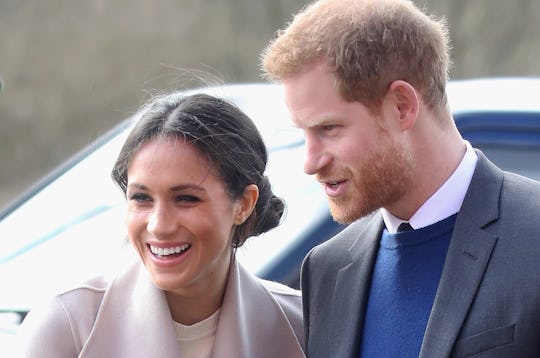 Chris Jackson/Getty Images Entertainment/Getty Images
9 Royal Wedding-Themed Party Decorations That Meghan & Harry Fans Will Totally Flip For
Royal wedding fever has definitely set in. Are you ready to host your royal wedding watch party? It's totally cheesy and maybe a little basic, but it's also totally irresistible. Meghan Markle is making history as one of the first mixed future princess, and while most things in 2018 have been pretty bad news, this is one piece of good news that deserves to be celebrated. If you're throwing a watch party, you need to get your act together and order some of these royal wedding themed party decorations, stat.
As a reminder that the royal couple is infinitely more stylish than the rest of us, how about some cake toppers with all their gorgeous outfits? Or maybe you need to stock up on royal wedding photo booth props, so you and your friends can pretend to be drinking tea with the queen instead of sitting in your pajamas at 4 a.m. wishing you had an occasion this fancy to attend. Or maybe you'll be really glad to have a Meghan and Harry coaster to set your drink on as you wait for the next royal wedding in about 30 years.
Now's the time to throw down with a royal watch party that's decked to the nines in true royal style. Whip up a batch of Yorkshire pudding, and offer a few prizes for best dressed (in their pajamas) and the most trivia questions about the royal couple answered correctly. Take bets on whether which guest's hat will be the biggest, and whether Harry will cry when he sees Meghan walking down the aisle.
It's definitely going to be the earliest party you've ever thrown, so you may as well make it memorable by including some authentic British food, adorable decorations, and definitely a few mimosa options. If you're ready to get decorating, here's where to start.