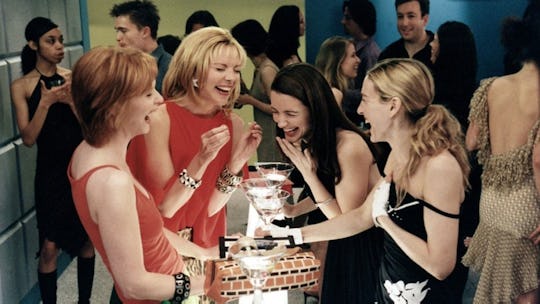 HBO
'Sex & The City' Just Turned 21, So Let's Revisit Some Of Its Best Quotes
Sex and the City premiered on HBO on Jun. 6, 1998, which means (I'm so sorry to remind you that time erodes everything) today is the 21st anniversary of the show's very first episode. Love it or hate it, the series became a cultural phenomenon whose impact is still felt decades later. There are many moments from it that feel incredibly dated in 2019, but these 9 Sex and the City quotes still ring true.
There are parts of Sex and the City that are undeniably silly. How did Carrie afford all those designer shoes on a columnist's salary? Why did she expect Charlotte to chip in so she could buy her apartment that one time? Why did Carrie love puns so much? And seriously, the less said about the famously cringey episode where she dated a bisexual guy (and flatly refused to accept his sexuality), the better.
But even when something from Sex and the City has you making The Face, there are still plenty of moments that feel true despite the passage of time. The great things about the show have endured, like its focus on friendship and women taking control of their own lives. Carrie, Samantha, Miranda, and Charlotte could dish out some wisdom from time to time — and these quotes are proof.