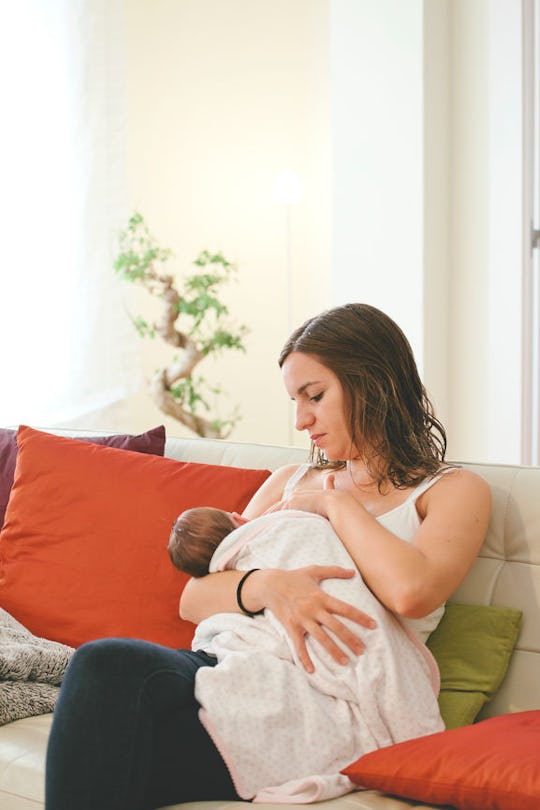 BONNINSTUDIO/Stocksy
9 Reasons To Get A Lactation Consultant Even If Your Supply Is Just Fine
Breastfeeding is a perfectly natural way to feed babies, but the act of breastfeeding doesn't come naturally to everyone. Thankfully, there's a healthcare specialist who can help coach you through the whole process, and that is a lactation consultant. So what are the signs you need a lactation consultant, and how can these pros help you out?
An International Board Certified Lactation Consultant is a healthcare professional who specializes in all aspects of breastfeeding, according to the International Lactation Consultant Association. They can help improve the breastfeeding experience for nursing people and babies everywhere with their knowledge and experience.
For anyone who has questions or concerns about breastfeeding, a lactation consultant can become your go-to resource for all things nursing. Plenty of new parents want to nurse, but they have a million questions about the best way to do it. (Of course there are many reasons why some people can't or don't breastfeed, and that's totally OK too.)
To learn more about these awesome services, Romper spoke with Rhona Yolkut RN, IBCLC, whose career has included over 30 years of experience in the field of birth, breastfeeding, and babies. She knows all about helping new parents successfully adapt to breastfeeding. In addition, Jadah Chatterjee, RN, IBCLC, LOOM's lead infant feeding educator, provided excellent insight as well. With the advice of these experts, you'll have a much better understanding of how lactation consultants help nursing people in all kinds of situations.