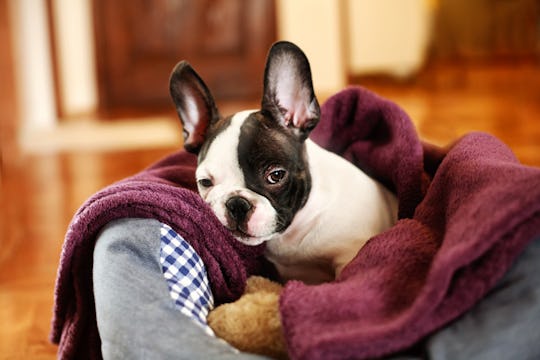 slavomir pancevac/Fotolia
9 Signs Your Dog Is Stressed Out By Your Baby & Needs Some Space
There's nothing more "aw" than seeing a baby and puppy cuddling, and I know this because I can spend hours watching videos of doggy-baby friendships. Your heart can't help but melt when you see the two most adorable creatures on earth come together, but if it is your own pet or baby, safety should always be a priority. Even the calmest dogs can get anxious around the unpredictable behavior of a baby, so it's important to pay close attention to the subtle signs that your dog is stressed out by your baby.
Every dog is different, and depending on the breed and their training, they will react differently in unpredictable situations, but there are certain behaviors that you can look for. Professional dog trainer and owner of D'Andrea Professional Dog Services, Frank D'Andrea, tells Romper that it's really important to carefully watch the interactions between your baby and your dog, especially if it's a puppy, because if your child injures the pup accidentally, he may respond by lashing out or biting. With older dogs, D'Andrea suggested trying gradual socialization and showing kindness so that your dog's interaction with your baby becomes second nature.
In the meantime, if your baby and pup are having a playdate, keep an eye out for these signs that could tell you that your dog needs some space.