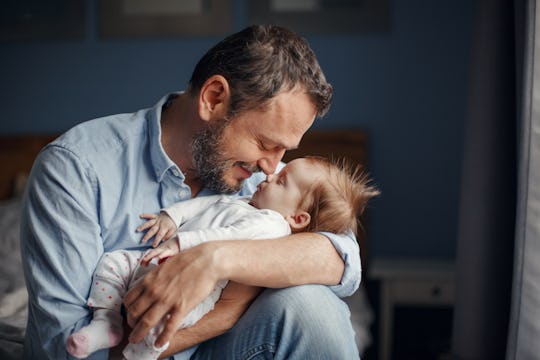 Shutterstock
9 Signs Your Spouse Is An Overprotective Dad
Helicopter Mom, Tiger Mom, and Snowplow Mom are the buzz words you hear when someone is trying to describe an overprotective parent. And, based on these terms, it seems like moms are the ones who get a bad rap for butting in and taking over our kids' lives. But they aren't the only ones who can become overly involved in our children's day-to-day affairs. There are dads who helicopter, tiger parent, and snowplow, too. Often, the signs your spouse is an overprotective dad are more about dating and sex than schoolwork and piano lessons.
Dads have the best intentions. They want to protect their children — and their daughters in particular — from the dangers of this world. They feel that having a tight grip will keep them safe, but sometimes, dads go over the top.
During the last homecoming dance season, a dad posted a photo of himself with his arms wrapped around his daughter's date and a caption that read "Whatever you do to my daughter, I will do to you." Both the daughter and her boyfriend were in on the joke, but it spawned a few responses from parents who didn't see the humor. "It's not 'funny' to threaten my son," Kasey Ferris wrote in Huffington Post. "It's not 'cute' to treat your daughter as if she has zero common sense."
And she has a point. Here are some signs that your spouse may going over the top and on his way to become an overprotective dad.