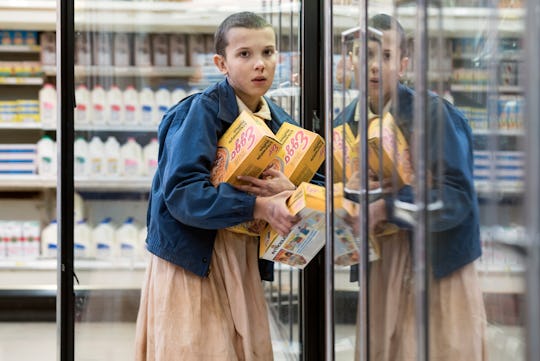 Curtis Baker/Netflix
9 'Stranger Things' Gifts For The '80s Nostalgia Fan & Demogorgon Hunter In Your Life
Do you know someone who's obsessed with Stranger Things? Someone with a freezer full of Eggos, a house full of holiday lights, a vintage bike in the garage, and a basement Dungeons and Dragons lounge? Not sure what to get them this holiday season? Here are nine Stranger Things holiday gifts for the '80s nostalgia fanatic and demogorgon hunter in your life. Because honestly, life is too short not to fully embrace your fandom. That and I thought listing 11 (Eleven?) items would be a little too on the nose.
Etsy, of course, has the motherlode of kitschy yet amazing Stranger Things themed items, mostly handmade and created by the brilliant minds behind the online marketplace's various shops. By browsing just a little you can find basically anything you can think of with some sort of in-joke, phrase, or picture from the show on it. We've got Stranger Things logo t-shirts, sweaters with the alphabet holiday lights, coffee mugs, buttons, charm bracelets, cross-stitches, and lots and lots of items crying for justice for poor Barb. Fans of the show will probably never be totally over the completely heartless way in which Barb, possibly the realest chick at that school, was dispatched. So in order to tide your friend or loved one over until Season 2 of the show arrives on Netflix, here is a round-up of my favorite gift-giving finds.
1. A Coffee Mug
Mug printed with the "coffee and contemplation", $13, Etsy
Police Chief Jim Hopper spoke for all of us caffeine addicts and decidedly not-morning-people when he told his assistant, "Mornings are for coffee and contemplation." Truer words have never been spoken, Jim. This mug printed with the "coffee and contemplation" quote is the perfect gift for your favorite drowsy Stranger Things fan.
2. A Fun Cross Stitch
Mouth Breather Finished Cross Stitch, $44, Etsy
What better way to decorate a home than with this mouth breather finished cross stitch Perfect for the interior decorator with a flare for the off-beat, as well as an appreciation for a well-crafted, classic insult.
3. Prayer Candles
Barb Prayer Candle, $15, Etsy
Do you have a friend who worships at the altar of fictional characters who may or may not have died? We all do, which is why this Stranger Things Barb prayer candle is the perfect gift.
4. A "Friends Don't Lie" Bracelet
"Friends Don't Lie" Bracelet, $12, Etsy
Would you like to drop your friend a subtle hint this holiday season? Or perhaps just reinforce an agreement the two of you made as inspired by the kids on Stranger Things? This "friends don't lie" bracelet is the gift for you.
5. A Table Lamp
VHS Table Lamp, $40, Etsy
For those who want to get even more creative with their home decor, why not buy them this VHS table lamp, with the Stranger Things logo on it? It's practical and nostalgic all at once.
6. A Tote Bag
Stranger Things Fan Tote Bag, $22, Etsy
This Stranger Things fan tote bag is perfect for carrying walkie-talkies, Eggo waffles, and slingshots in.
7. A Hawkins Middle School A.V. Club T-Shirt
Hawkins Middle School A.V. Club T-Shirt, $15, Etsy
We should all take style cues from Dustin, possibly the most endearing character in a cast full of endearing characters, which is why this Hawkins Middle School A.V. club t-shirt is such a great gift.
8. A Christmas Lights Sweatshirt
Stranger Things Christmas Lights Crewneck Sweater, $30, Etsy
You know that ugly sweater party your loved one insists she has nothing to wear to? Problem solved with the Stranger Things Christmas lights crewneck sweater. Get ready to slay — or should I say sleigh?
9. A Stranger Things T-Shirt
Stranger Things Ringer T-Shirt, $20, Etsy
Then again, you might have a friend who appreciates something slightly more subtle, like this Stranger Things ringer t-shirt. It says, "I love Stranger Things, but I haven't quite made it my lifestyle yet, OK?"
Whatever option you decide to go with, though, rest assured that the receiver of any of these gifts will be one very satisfied customer.